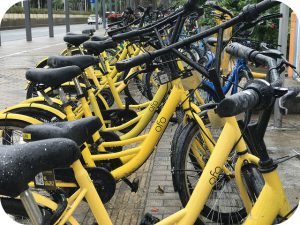 If you live in a large or mid-sized city, you've probably noticed a lot of brightly colored bicycles popping up on sidewalks throughout town. Whether they're green bikes from Lime or Ofo's yellow models, these two-wheeled vehicles are available to rent for as little as $1 per ride. Bike-share companies claim that this business model provides cities with a wealth of transportation options that both tourists and locals alike can easily access. For communities that have been absolutely flooded with bike-share vehicles, however, the things can seem more like an infestation than a revolution.
For instance, companies placed as many as 20,000 bikes onto the streets of Dallas, more than any other U.S. city. Citizens quickly began to complain about bicycles piling up on sidewalks or getting tossed into waterways. One person even threw a bike onto a statue of Benjamin Franklin, one of many eye-catching incidents captured by the Instagram account dallasbikemess. Another angry citizen set a pair of Ofo bikes on fire, prompting the Dallas Police to urge people to "voice your concerns to your City Council person, not commit a crime."
The city started to fight back in January when officials demanded that companies do more to keep their vehicles from blocking sidewalks and pedestrian ramps. After their words of warning had little effect, this summer Dallas legislators passed a law requiring bike-share firms to obtain operating permits. Companies must also pay a fee to the city for every bike they put on the streets, a move that convinced three bike-share businesses to pack up and leave Dallas. Still, even this drastic measure didn't eliminate all the controversy surrounding this issue. When the Chinese company Ofo decided to get out of the Dallas market, it left hundreds of yellow bikes stacked in dumpsters at a local recycling center. A picture of the pile quickly went viral and became a symbol for the city's struggle with bike-share companies. Meanwhile, Ofo has also stopped operating in Atlanta and Miami, a severe setback for a company that's aiming to be one of the world's biggest bicycle businesses.
Questions:
What are the advantages and disadvantages of the bike-share business model?
Do you think more cities should regulate bike-share companies like Dallas does? Why or why not?
Source: Bill Chappell, "Hundreds Of Bikes Dumped At Dallas Recycling Center As Ofo Leaves Market," NPR, August 7, 2018. Photo by Jon Russell.