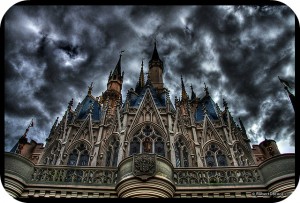 For years, skilled workers from around the world have used H-1B visas as their tickets into the U.S. These visas are intended to provide companies with a pool of specialized foreign labor in case they can't find any qualified domestic candidates. According to a recent lawsuit, however, one of the world's biggest brands may have been abusing the H-1B system in order to boost their own bottom line. Rather than filling open positions with outsourced labor, The Walt Disney Company stands accused of firing American employees and replacing them with cheaper foreign workers.
The two former tech staffers who filed lawsuits against Disney claim that they even had to train their replacements as part of their severance packages. Both were assured that they'd be rehired as soon as possible, but that day never arrived for them or many others. Of the more than 250 tech workers that Disney fired in Florida last year, only about 100 have been brought back to the company. Leo Perrero, one of the claimants who filed suit, waited for Disney to reach out for more than a year until he finally decided to take action into his own hands.
What's more, the global entertainment giant isn't the only company implicated in the pair's complaints. Two global consulting companies, HCL and Cognizant, have been accused of colluding with Disney to bring in H-1B immigrant labor while displacing American workers. On top of that, at least 30 former Disney employees have filed complaints with the Equal Employment Opportunity Commission on grounds that they faced discrimination for being American. As a result, the Labor Department has now opened up its own investigation into Disney's practices as well as those at Southern California Edison, a utility company that laid off hundreds of Americans in 2014. While no one knows exactly how these investigations will turn out, they could potentially convince the government to reduce the annual amount of foreign workers brought in by the H-1B program.
Questions:
Should the government allow fewer foreigners to work in the U.S. because of abuses to the H-1B system? Would this be more harmful to companies, workers, or both? 
Why do American companies outsource jobs overseas or to a foreign workforce?
Source: Julia Preston, "Lawsuits Claim Disney Colluded to Replace U.S. Workers With Immigrants," The New York Times, January 25, 2016. Photo by: Robert D Bruce.