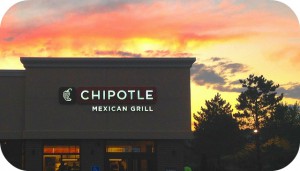 Chipotle enjoyed years of rapid growth thanks in part to its heavily marketed commitment to fresh ingredients. However, that established image has crumbled over the last few months as the burrito chain grapples with a major E. coli outbreak at its restaurants. Chipotle's problems began in summer 2015 when customers began falling ill in California and Washington. Attention then shifted across the country to more than 140 Boston College students who received food borne noroviruses from a local Chipotle. By December 10, founder and co-CEO Steve Ells was on the Today show apologizing to sick customers and championing Chipotle's new safety standards.
For many consumers, though, it may be too late for the company to redeem itself. According to public health researchers, about 500 people have fallen ill from eating Chipotle food since July. In fact, those are just the confirmed cases of individuals who were properly examined and diagnosed by physicians. Food safety experts claim that any outbreak usually affects more than 10 times as many people as the reported amount. That means that thousands could have fallen ill due to Chipotle's lax stance towards food safety. As a result, the fast casual chain experienced its first quarterly decline since it went public in 2006. Its stock plummeted as much as 30 percent since August while sales at established stores fell 16 percent in one month.
Although any company would have trouble dealing with a crisis like this, Chipotle's past marketing puts the chain in an especially uncomfortable position. After all, for years the brand thrived on advertising that encouraged customers to look closely at the company's supply chain. They're certainly doing that now, and it's not pretty. Preliminary investigations have shown that the E. coli outbreak originated from one of Chipotle's vegetable suppliers. The only problem is that they're not sure which one it came from since the company did not closely track which ingredients went to which stores. This loose thread in the investigation could make former Chipotle customers even more hesitant to give the chain a second chance. Ells says that the company will improve food safety by doing more prep work and cooking at large processing facilities rather than in-house at restaurants. Many fast food chains already rely on this method, a fact that could further undermine Chipotle's already ailing image.
Questions: 
What does Chipotle need to do in order to reestablish trust with its customer base?
How will this E. coli outbreak affect Chipotle's branding? What changes do they need to make, or should they keep doing things the same way?
Source: Susan Berfield, "Inside Chipotle's Contamination Crisis," Bloomberg BusinessWeek, December 22, 2015. Photo by Mike Mozart.