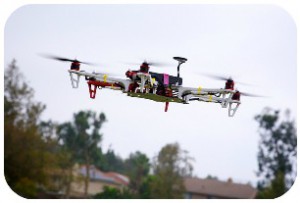 A few years ago Amazon announced a plan to start their own drone-based delivery service, allowing customers to receive goods just hours after ordering. At the time the idea seemed almost too futuristic to be true. After all, the image of dozens of robots circulating the sky and dropping off packages sounds like something straight out of a sci-fi movie. According to the company, however, the plan for Amazon Prime Air remains on track and may even become a reality by the end of the decade. For now, the biggest obstacle in Amazon's path is the U.S. government as it sorts out the complicated regulatory details of commercial drone flight.
In countries with less crowded skies, however, the process of legalizing commercial drones is simpler. For instance, New Zealand's government cleared the way for the practice last year, allowing companies to launch pilot programs in the small South Pacific nation. Along with retailers like Amazon, Domino's Pizza also headed down to New Zealand to develop their drone program. After completing a trial run last week in the major city of Auckland, the company announced that it would launch a regular service by the end of 2016. If Domino's succeeds in this mission, it will become the first company in the world to offer drone delivery.
Still, not everything about New Zealand's drone regulations is ideal. One rule in particular states that the automated machines must be kept in sight at all times, which would require a nearby human to supervise the flight. This stipulation could also increase the amount of hazards the low-flowing drones encounter, such as power lines or moving vehicles. As Domino's executives work with the New Zealand government to remove rules like these, the company remains committed to its vision of clear blue skies full of pizzas. "It doesn't add up to deliver a two kilogram package in a two-ton vehicle," said  Scott Bush, a general manager for Domino's Pizza Enterprises. "In Auckland, we have such massive traffic congestion it just makes sense to take to the airways."
Questions:
Can commercial drone delivery grow from a niche service into a major product distribution method?
Why is it easier for a small country like New Zealand to implement regulations on commercial drone flights?
Source: Farhad Manjoo, "Think Amazon's Drone Delivery Idea Is a Gimmick? Think Again," The New York Times, August 10, 2016; Matt McFarland, "Domino's Delivers Pizza by Drone in New Zealand," CNN Money, August 26, 2016; Rebecca Howard and Byron Kaye, "Pizza by Drone: Unmanned Air Delivery Set to Take Off in New Zealand," Reuters, August 25, 2016. Photo by Richard Unten.