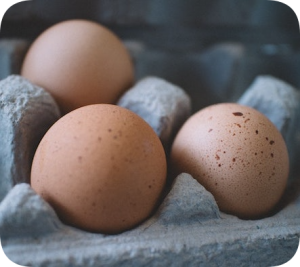 Food prices hiked by inflation have taken a toll on Americans' wallets for more than a year, although economists say that costs for a number of commodities are finally starting to fall. But that has not been the case with eggs: the average U.S. price per dozen hit $4.25 in December 2022, up from $1.79 a year earlier. The situation is especially bad in costly markets like California, where 12 Grade A large eggs go for an average of $7.37. These high prices aren't expected to go away anytime soon, unfortunately, with egg farmers still reeling from a bird flu outbreak that claimed the lives of millions of egg-laying hens. 
The industry last encountered an epidemic of flu in 2015, but this latest variant has been far more deadly. According to analysts, farmers have slaughtered an estimated 43 million birds to control the spread of the disease, wiping out 5 percent to 6 percent of the egg-laying hen population. While supply chain issues and the coronavirus pandemic have harmed production, experts say that the massive disruption caused by the bird flu cannot be underestimated. "The flu is the most important factor affecting egg prices," said Maro Ibarburu of the Egg Industry Center at Iowa State University. Not everyone agrees with that assessment, however, with some consumer advocates arguing that companies are setting prices far too high.
According to the farmer-led advocacy group Farm Action, for instance, there "appears to be a collusive scheme among industry leaders to turn inflationary conditions and an avian flu outbreak into an opportunity to extract egregious profits." The organization sent a letter to the Federal Trade Commission (FTC) about their concerns, as did Senator Jack Reed of Rhode Island, who called on the agency to investigate egg producers for possible price-gouging. "At a time when food prices are high and many Americans are struggling to afford their groceries, we must examine the industry's role in perpetuating high prices and hold those responsible accountable for their actions," wrote Reed. Both letters singled out Cal-Maine Foods, the largest producer of eggs in the U.S., which saw its quarterly sales leap 110 percent to $801.7 million. This generated a profit of more than $198 million, up from just $1.1 million last year. Cal-Maine said that its egg prices "are determined by negotiations with the grocery store chains, club stores and distributors it sells to."
Questions:
Why have egg prices increased dramatically in recent months?
Do you think government regulators should investigate egg producers for possible price-gouging? Why or why not?
Sources: Kim Bellware, "Egg Prices Haven't Come Down With Inflation. Here's Why," The Washington Post, January 10, 2023; Josh Funk, "Soaring Egg Prices Prompt Demands for Price-Gouging Probe," The Washington Post, January 24, 2023.