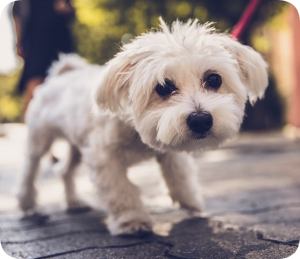 When Bethany Lane moved to New York City after graduating from college, she immediately looked for ways to make money in her expensive new home. "I had to pay my rent and student loans, so I went on Craigslist," she said. "I saw that somebody would pay me to walk dogs. As an animal lover who is obsessed with dogs, it was perfect." The job worked out so well that by 2014 Lane founded Whistle & Wag, a boutique pet care service that quickly acquired dedicated customers along with employees to serve them. With demand soaring now more than ever before, she currently handles dozens of clients and charges as much as $35 per walk. "If I would have told my younger self I can make a living caring for dogs," said Lane, "I never would have believed it."
Whistle & Wag saw business pick up significantly after the difficult early days of the pandemic as many New Yorkers filled their lonely apartments with pets. According to the American Society for the Prevention of Cruelty to Animals (ASPCA), nearly one in five American households acquired a dog or cat during the pandemic, amounting to more than 23 million homes nationwide. All of those new dogs need to be walked, of course, which is where companies like Lane's come in. "Prepandemic I used to get a call maybe one or two times a month from a potential new client," said Lane. "I get multiple calls a week now. It is a lot of puppies." All this new business has led to booming sales for Whistle & Wag, which earns hundreds of thousands each year by going on strolls with pooches.
Lane's story demonstrates how dog walking has transformed from a side-gig for actors and musicians into a lucrative business where people can earn more than six figures annually. Still, big paydays like that are usually restricted to affluent areas like Manhattan, where wealthy clients can spend as much as $50 on a 30-minute walk. At the same time, entrepreneurs outside of New York City can take advantage of the expanding pet population through other services. For instance, some businesses take city-dwelling pups on trips to farms or on nature hikes to enjoy a bit of fresh air while other pet startups specialize in dog training for people with hectic schedules.
Questions:
How did the pandemic affect dog walking companies like Whistle & Wag?
Do you think entrepreneurs outside of the New York area could potentially earn big money by caring for dogs? Why or why not?
Source: Alyson Krueger, "How These Dog Walkers Make Over $100,000 a Year," The New York Times, January 22, 2023.