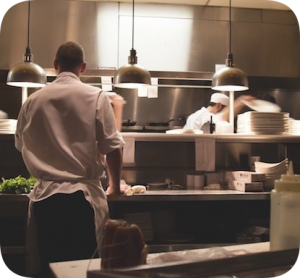 Last weekend during a busy dinner service, San Francisco restaurant owner Pim Techamuanvivit received a strange phone call. The caller wanted to know when the delivery he ordered through Seamless would turn up since he had already waited 45 minutes for it. "I think you must be confused, because I don't do delivery," replied Techamuanvivit. The frustrated person on the other line then asked why her business was listed on Seamless. Upon further investigation, Techamuanvivit discovered that both Seamless and Grubhub had included her upscale Thai restaurant Kin Khao among their options without her permission. Even worse, the food delivery apps listed menu items such as Vietnamese pho that the restaurant did not serve. 
"It's outrageous. They can't get away with this," said Techamuanvivit. "They can't totally fake a restaurant that doesn't do delivery and go pick up food from, I don't know, some rat-infested warehouse somewhere and deliver to my guests." She intends to pursue legal action against Grubhub, the Chicago food delivery company that also owns Seamless. In response, Grubub claimed that the vast majority of its orders come from more than 140,000 restaurants that it partners with in over 2,700 American cities. But recently the company has also started adding unpartnered eateries that are nevertheless in high demand by customers. In these cases, someone at Grubhub usually orders the food directly from the restaurant and then dispatches a driver to pick it up.
"Kin Khao was one of these restaurants we added to our marketplace for this initiative to include more restaurants on our platform, and unfortunately, we referenced the incorrect menu for this restaurant," said Grubhub. "As soon as they reached out to us expressing they'd like to be removed and flagged the incorrect menu, we honored the request."  Of course, Kin Khao isn't the only restaurant that has been surprised by a sudden flood of delivery orders. The San Francisco sandwich shop Deli Board only offers delivery on big catering orders, but one Saturday at least three Grubhub drivers came in to pick up food. Owner Adam Mesnick says that some of the orders included outdated menu items and incorrect prices, leading him to ask Grubhub to remove his restaurant from the site.
Questions:
Why are restaurant owners like Pim Techamuanvivit and Adam Mesnick upset with Seamless and Grubhub?
Do think it is ethical for food delivery apps like Seamless and Grubhub to include unpartnered restaurants without their permission? Why or why not?
Source: Tara Duggan, "Seamless, Grubhub Deliver Confusion With Mistaken Restaurant Listings," San Francisco Chronicle, January 26, 2020.