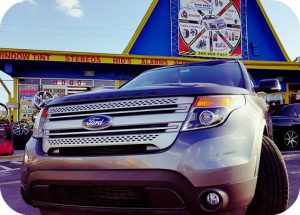 Modern factories depend on high-tech concepts such as automation and computer-aided manufacturing in order to operate as efficiently as possible. Despite these advancements, though, even the most state-of-the-art facilities can fall victim to unforeseen setbacks that halt production completely. At Ford, for instance, the automaker announced yesterday that it will temporarily stop making its popular F-150 trucks after a fire at a supplier's factory damaged critical components.
The incident took place last week at a facility that serves as Ford's only U.S. supplier of radiator support structures. Without these key items on hand, the automaker was forced to halt production of one of its most valuable brands. In fact, one analyst claims that the enterprise value of the F-150 is greater than Ford itself. The truck generated a whopping $41 billion in revenue last year, accounting for 28 percent of Ford's total sales. So far in 2018 the automaker has sold nearly 300,000 F-150s after moving 900,000 units last year.
Of course, Ford will have a hard time hitting that benchmark again if it continues to delay production on new models. According to experts, the company could lose as much as $310 million from just a two-week stoppage. This incident has also been a nightmare for workers: earlier in the week Ford sent home approximately 3,600 employees at a Kansas City plant that makes the F-150. The company may also be forced to temporarily layoff 4,000 workers at a facility in Dearborn, Michigan. Consumers should be in the clear for a while, though, with Ford saying that it has an 84-day supply of trucks on-hand. If this stoppage drags on for a long time, however, new F-150s could start disappearing from the market.
Questions:
Do you think this delay in production of the F-150 could damage Ford's reputation with consumers?
Should Ford provide compensation for the employees it must temporarily layoff as a result of this production delay? Why or why not?
Source: Natasha Bach, "Why Ford Has Stopped Production of America's Best-Selling Pickup," Fortune, May 10, 2018.