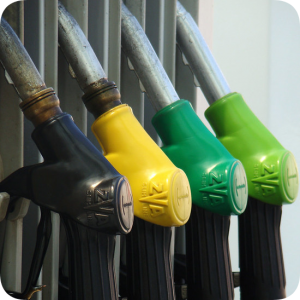 Anyone who's had to fill up their car lately knows how the cost of gas has shot through the roof in recent weeks. According to the U.S. Energy Information Administration (EIA), the average price per gallon increased to $4.24 on Monday, the highest rate in more than four decades. Although the inflation-adjusted price does not quite reach the heights of the 1970s energy crisis, consumers must nevertheless deal with the largest month-to-month gas price increases on record. 
Some parts of the country are feeling the pain at the pump worse than others. In Nevada, for instance, gas prices have increased by $1.15 over the past month while Californians are paying $1.11 more per gallon than they did in February. Meanwhile, Maryland drivers have seen prices rise by just 28 cents. According to the EIA, some regions adopt summer-grade gasoline before others, which leads to price disparities in the spring. "Summer grade gasoline is more expensive to produce and may have contributed to a larger price response recently," said the EIA. 
Supply and demand also varies by region, with gas inventories low on the West Coast but above average in the Midwest. "The more the demand, the less the supply, the higher the cost," said AAA spokesperson Andrew Gross. Of course, the overall cost increase is due in large part to the Russian invasion of Ukraine, which has caused crude oil prices to spike as the aggressor nation faces vast trade sanctions. If prices remain at this level, Americans heading out on road trips this summer might have to make a lot of room in their budget for fuel costs. "I think as long as oil is hovering around $100 per barrel, gas prices will remain elevated at the pump," said Gross.
Questions:
Why have gas prices hit record levels in recent weeks?
What causes the price of gas to vary across different regions?
Source: Kara Dapena, "Gas Prices Shoot Up at Fastest Rate on Record," The Wall Street Journal, March 22, 2022. Photo by Jose Carlos Norte.