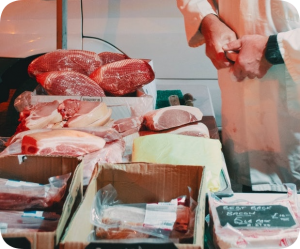 Nearly a month after a cyberattack on Colonial Pipeline led to gasoline shortages across the nation, this week hackers targeted and shut down some operations at JBS, the world's largest meat supplier. Like the previous incident, the perpetrators infiltrated the company's computer systems and demanded a ransom to unlock them. Although JBS said that its systems are coming back online, it nevertheless had to halt operations at processing plants throughout the U.S. and Australia as a result of the attack. 
At one of its largest plants in Colorado, nearly 3,000 JBS employees were told not to come into work. This facility had already suffered through multiple shutdowns in the previous year due to coronavirus outbreaks that affected hundreds of workers. "It's piling up bad news on top of bad news," said food industry analyst Don Close. While it remains unclear how the hack will affect food supply chains, the increasing frequency of ransomware attacks is a threat for businesses across all industries, not just meat processors or oil pipelines. Researchers claim that one hacking group has brought in more than $56 million from digital ransoms this year alone. 
Experts also fear that these attacks could become more common given how dependent modern companies are on technology. "I would argue that the continued digitization of modern society creates boundless opportunities for cyber criminals," said Doug Madory of the network monitoring company Kentik. "For the corporate world, the efficiencies gained through putting services and workloads online are simply too attractive to eschew. But with this increased digitization comes dependency, and securing complex systems can be very difficult. It is likely going to get worse before it gets better."
Questions:
How did the recent ransomware attack on JBS affect operations at the meat processing company?
Do you think modern companies have become too dependent on technology? Why or why not?
Source: Hamza Shaban, Ellen Nakashima and Rachel Lerman, "JBS, World's Biggest Meat Supplier, Says Its Systems Are Coming Back Online After Cyberattack Shut Down Plants in U.S.," The Washington Post, June 1, 2021.