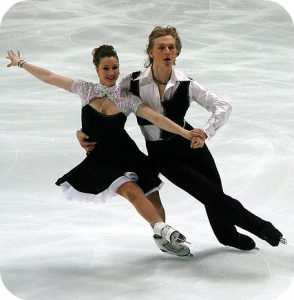 For nearly a week, millions of people around the world have been tuning into the Winter Olympics broadcasting from Pyeongchang, South Korea. Like seemingly every edition of the games, figure skating has been one of the most watched events as stars like Adam Rippon and Mirai Nagasu take to the ice with incredible grace and skill. With everyone's eyes on the athletes, though, your ears may have missed something new about the music that soundtracks these routines. For the first time in Olympic history, figure skaters can now perform to songs that have lyrics.
In order to appeal to younger audiences, the International Skating Union decided to turn away from old instrumental tracks and towards pop songs from the likes of Beyoncé and Ed Sheeran. Although taking this modern step certainly seems logical, it's not exactly a cheap decision to make. After all, licensing music for television can cost a pretty penny depending on the artist that is being used. For instance, producers of the show Mad Men once paid $250,000 for the publishing rights to a Beatles song. In this case, networks must pay for a special "synchronization license" that allows them to play a piece of music over a particular TV show or movie.  
Things work differently for live broadcasts like the Olympics, however. While NBC must still pay to license a song, the network is covered by a "performing right" that allows music to be played in public settings with no additional permissions. "These are basically live performances," said music licensing expert Steve Winogradsky, "so there is no synchronization right, as there would be in a pretaped motion picture." These same rules apply even when an event's broadcast is delayed until primetime. If NBC wanted to use a song outside of its regular Olympics coverage, though, then the network would need to secure a synchronization license.
Questions:
Why don't networks need to secure special licensing rights for pop songs used during live events like Olympic figure skating?
Why do you think it costs so much more to use a song in a movie or TV show than during a live sports event?
Source: Ben Sisario, "Beyoncé Songs Come to the Olympics. But Who Pays for the Rights?" The New York Times, February 14, 2018.