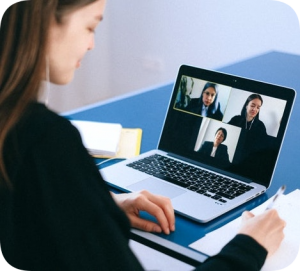 At the beginning of the year, the widespread distribution of Covid vaccines gave many companies the confidence to start plotting their triumphant returns to office life. Then the spread of the delta variant largely thwarted these plans as firms brought back just a fraction of the staffers they had intended to. And for those few employees who returned to offices, most are still doing the same thing that they've done since March 2020: Zoom meetings. 
For example, Nick Kneer had been counting down the days until he could return to his job as a communications coordinator at an Ohio library. Rather than once again interacting with his colleagues in person, however, the delta variant caused him to be stowed away in a windowless cinderblock room where he conducted the same old Zoom meetings. "It was definitely a bummer," said Kneer. His experiences reflect a larger problem in the business world where companies and some employees want to return to the office but remain stuck on Zoom. 
"There's this weird tension," said human resources researcher Brian Kropp. "We want everyone back in the office, but we still want everyone to do work by video." At a Massachusetts tutoring and test prep company, program manager Emily Wagner said that her colleagues in the office communicate like prairie dogs by occasionally popping their heads out of their cubicles to talk across the room. Most of the time, though, Wagner is on Zoom with the rest of her team, who come into the office on alternating days for safety purposes. Others report that this can create a confusing environment where no one knows what anyone else is up to. "When everyone is doing Zoom from their desk, it's impossible to tell who is in a meeting," said Matt, a web developer in New Jersey. "It's very weird."
Questions:
Do you think companies should bring employees back into offices to conduct Zoom meetings? Why or why not?
How do you think American companies should utilize virtual meeting software like Zoom in the long term? 
Source: Danielle Abril, "Workers Are Putting on Pants to Return to the Office Only to Be on Zoom All Day," The Washington Post, September 28, 2021.