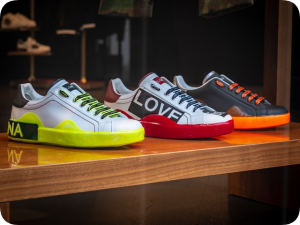 For most of the 20th century, American consumers relied on small local shoe stores to fulfill all of their footwear needs. Then big sporting goods retailers arrived on the scene followed by sophisticated online operations like Zappos. Although this increased competition forced some independent outlets to close, many others managed to survive thanks to their high level of service. At Colburn Shoe Store in Maine, for example, employees remember exactly what size shoe their customers wear as well as their preferred brands.
But if a customer comes in looking for Nike or Adidas sneakers, they'll be out of luck. Major shoemakers like these require their suppliers to purchase at least $20,000 worth of shoes annually, which can amount to 500 pairs or more. That's too much inventory for a one-room store like Colburn to carry, so in 2015 Nike terminated its account with the more than 150-year-old shop. "The trend seems to be that volume is the way for the big shoe companies to make money," said Brian Horne, who transferred ownership of Colburn over to his son a few years ago. "Obviously, a hole-in-the-wall shoe store doesn't speak volume."
Nike and Adidas aren't just focused on their accounts with big players like Walmart and Target. They're also increasingly trying to convince customers to shop on their own websites. Not only did online sales represent nearly 30 percent of the $72 billion U.S. footwear market last year, but also direct-to-consumer sales from companies' online stores grew by 12 percent. "It doesn't mean the physical stores are going to go away, but there will be a whole lot less of them," said sports industry analyst Matt Powell. "It's unfortunate, because our country's retail business was built on the small mom-and-pops." According to the National Shoe Retailers Association, the number of independent outlets is declining with only 6,000 to 8,000 small footwear retailers remaining in business currently.
Questions:
Why are major shoemakers like Nike and Adidas terminating their accounts with small footwear retailers?
Do you think independent retailers like Colburn Shoe Store will be able to survive in the long term? Why or why not?
Source: Murray Carpenter, "Shut Out by Shoe Giants, 'Mom and Pop' Stores Feel Pinched," The New York Times, June 18, 2019.