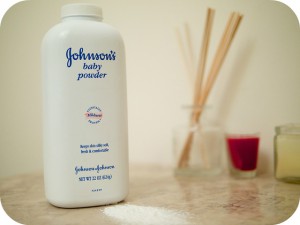 Talcum powder is such a standard household item that most people don't think twice about using it every day. That was certainly the case for Jackie Fox of Birmingham, Alabama, who for decades used Johnson & Johnson brand baby powder for feminine hygiene. Once she became diagnosed with ovarian cancer in 2013, however, Fox soon learned that the seemingly healthy habit had actually caused her disease. Shocked by the news, Fox filed suit against Johnson & Johnson in a broader claim involving about 60 other plaintiffs.
Although Fox has since passed away, last week a Missouri judge ruled in her favor and awarded $72 million in damages to her family. According to legal experts, Johnson & Johnson will appeal the decision and almost certainly reduce the damages they must pay. Nevertheless, the corporation's troubles aren't even close to over. Not only must they face the dozens of other plaintiffs involved in Fox's claim, but also more than 1,200 other lawsuits that are still pending. In fact, legal complaints against Johnson & Johnson could ultimately number in the thousands as news of this controversy spreads far and wide.
The company has been trying to prevent that from happening for years, which may be why it's in this mess in the first place. During Fox's trial, her attorneys revealed a 1997 company memo where a medical consultant stated that "hygienic" talcum use increases risk of ovarian cancer. The consultant went on to compare those who dismiss this link with tobacco executives who denied the relation between cigarettes and cancer: "Denying the obvious in the face of all evidence to the contrary." Still, Johnson & Johnson did nothing to warn customers that talcum powder could be so harmful. Most likely, the company did not want consumers associating a best-selling health product with disease and danger. That's precisely what's happening now, though. Along with facing off against thousands of legal opponents, Johnson & Johnson must also work to reestablish trust with their customers. It's hard to tell which will be the more difficult task to accomplish.
Questions:
Should Johnson & Johnson executives face criminal charges for their failure to disclose the dangers of talcum powder misuse?
How can Johnson & Johnson reestablish trust with consumers?
Source: Associated Press, "Johnson & Johnson to Pay $72 Million in Case Linking Baby Powder to Ovarian Cancer," The Guardian, February 23, 2016. Photo by Austin Kirk.