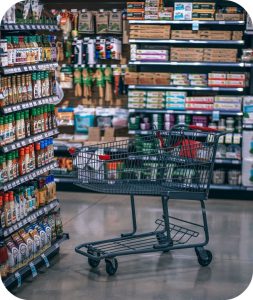 In recent years retailers both large and small have struggled to compete against the low prices and convenience offered by e-commerce outlets. But even as Amazon disrupted all sorts of stores over the last decade, supermarkets such as Kroger managed to survive and thrive. Along with the troubles of delivering fresh produce, online retailers couldn't convince customers to buy their food sight-unseen.
That is until startups like Instacart made grocery delivery more accessible to the average consumer. Although online purchases accounted for just 5 percent of the $1 trillion that Americans spent on groceries last year, sales in this sector are growing at a rate of more than 40 percent annually. Meanwhile, in-store sales have remained flat for some time, leading many grocery companies to expand their online and delivery offerings. For instance, in 2016 Walmart purchased the e-commerce operation Jet.com in order to boost online sales. Target similarly bought the grocery delivery service Shipt in 2017 followed shortly after by Amazon's entry into the industry with its purchase of Whole Foods.
As these companies prepared for the future, however, Kroger stuck to the strategy that worked for it in the past. With leadership that wasn't exactly open to change, the nation's largest supermarket chain continued to focus on in-store sales even as competitors branched out. After years of inconsistent sales and a volatile stock price, though, Kroger executives now know they must adapt to the current environment or else face further losses. To combat this decline, the supermarket chain has set aside $4 billion to invest in online operations. Working alongside tech giants like Microsoft and IBM, Kroger will improve its e-commerce platform while also updating its warehouses to include robot managers. These improvements will help the chain accomplish difficult logistical feats such as same-day shipping, although only time will tell if Kroger will be able to keep up with the competition in the long run.
Questions:
Why have online and delivery services become so important to supermarkets in recent years?
Do you think Kroger will be able to compete in the long run with competitors like Walmart or Amazon?
Source: Heather Haddon, "America's Biggest Supermarket Company Struggles With Online Grocery Upheaval," The Wall Street Journal, April 21, 2019.