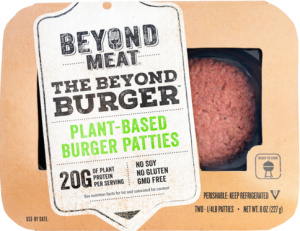 Although share prices of Uber have not dropped significantly since its terrible first two days, the ride-hailing company is still a long way off of its initial $120 billion valuation. Its competitor Lyft has had a similarly unimpressive IPO, disappointing many investors who hoped both companies would debut strongly on the market. But while these firms are performing well below Wall Street's expectations, one new tech stock is dazzling shareholders and making competitors pay attention.
Since hitting the market on May 2nd, Beyond Meat has seen its share price soar by more than 250 percent. The plant-based meat maker is now valued at more than $5 billion as it partners with a growing number of food companies. Along with stocking its veggie burgers at grocery stores like Kroger and Whole Foods, Beyond Meat also provides meatless options for Carl's Jr. and Tim Horton's. And with the most successful IPO of the year so far, experts predict that many of the food industry's major players will now follow Beyond's lead into the meatless market. "All the big guys are looking, and everyone is saying, crap, we're already three years behind," said Chris Kerr of the investment firm New Crop Capital.
For instance, Tyson Foods recently announced it would introduce a meatless protein to the U.S. market in the coming months. McDonald's now sells a veggie burger in Germany while Burger King will soon make the Impossible Whopper available nationwide. In fact, other big food companies such as Kellogg, Conagra, and Kraft-Heinz will likely expand into plant-based proteins in the coming years. So thanks in part to Beyond's breakout success on the stock market, 2019 is certainly shaping up to be the breakout year for alternative meats.
Questions:
Why do you think Beyond Meat is currently succeeding on the stock market while other recent IPOs like Uber and Lyft are failing?
Do you think startups like Beyond will be able to compete with big companies like Tyson Foods when they move into the meatless market? Why or why not?
Source: Lydia Mulvany, Leslie Patton, and Deena Shanker, "Veggie Burger Mania Hits Corporate America After Beyond IPO," Bloomberg, May 6, 2019; Sarah Min, "Eat Dirt, Uber! Beyond Meat Is Most Successful IPO of 2019 So Far," CBS News, MAy 16, 2019. Photo by BYMTDigital.