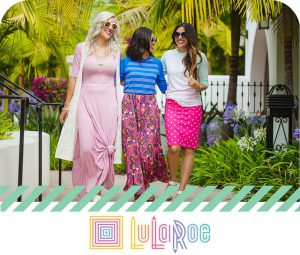 Since its founding in 2012, the women's apparel seller LuLaRoe has grown into a powerful brand despite never stocking its clothes in stores. Instead, the company directly sells items to a team of independent consultants who find customers on their own. These representatives can eventually receive bonuses if they find new consultants to recruit, thus expanding the number of LuLaRoe sellers as well as customers. If you ask executives at the company, this direct selling strategy fits the mold of a classic multi-level marketing enterprise. But to the plaintiffs of a pair of class-action lawsuits filed against the company, LuLaRoe is little more than a pyramid scheme.
Both complaints revolve around an inventory return policy that was allegedly misleading for sellers. Earlier this year LuLaRoe told consultants that it would buy back any unused stock at full value. The company quickly reversed that decision, however, and went back to its original policy of refunding just 90 percent of an item's value. To make matters worse, LuLaRoe didn't inform consultants about the change. A few plaintiffs claim that the company didn't even grant partial refunds when they tried to return items. Instead, LuLaRoe decided that certain products could not be returned, especially if the consultant in question was looking to quit the company. In one instance, a consultant who decided to leave LuLaRoe was told that she wouldn't receive a full refund for the $20,000 worth of stock she had purchased. The best she could hope for was a 90 percent refund for clothing deemed returnable by the company, and even then she would need to pay shipping for the items she wanted to send back.
According to plaintiffs, this situation shows that LuLaRoe is more concerned with selling products to consultants than to customers. Both lawsuits claim the company constantly pressured sellers to keep buying stock and recruit more consultants. This strategy caused the number of LuLaRoe sellers to balloon from 2,000 in 2015 to more than 80,000 today. While this is good news for executives at the top, the company's consultants say they're finding it increasingly hard to find customers. LuLaRoe's upper management stands by its business model, claiming that any sellers who have trouble finding buyers simply aren't looking hard enough. The company has also defended its return policy and plans to fight both class-action complaints.
Questions:
Do you think LuLaRoe's business model is ethical?
Should LuLaRoe grant full refunds to consultants looking to return unsold items?
Sources: Mark Matousek, "LuLaRoe Is Facing a Class-action Lawsuit From Consultants Who Call It a 'Pyramid Scheme,'" Business Insider, October 19, 2017; Stephanie McNeal, "Women Say They're Stuck With $20,000 of Worthless Clothing In a Lularoe "Pyramid Scheme,'" BuzzFeed, October 25, 2017. Photo by Tara_St.