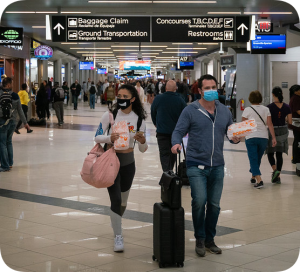 One year ago, the World Health Organization designated the coronavirus as a pandemic. Soon after that announcement, life in the U.S. changed utterly as offices, airlines, and professional sports leagues all came to a halt. And while the U.S. economy is beginning to recover as the vaccine rollout gains momentum, the coronavirus pandemic has had a seismic impact upon America and the rest of the world that will be felt for years to come.
More than 118 million cases of Covid-19 have been reported across the globe leading to 2.6 million deaths. The U.S. alone has had more than 29 million reported cases and 530,000 deaths. To deal with this crisis, the federal government is set to spend more than $5 trillion once the latest relief bill is signed into law tomorrow. This has helped the economy regain three-quarters of the sharp decline that hit the nation at the onset of the pandemic. 
Although experts expect a full recovery to be completed this year, there are still 9.5 million fewer jobs in the U.S. now than there were at the beginning of 2020. More than 600 large corporations went bankrupt last year as well, including once formidable firms like JC Penney, Niemen Marcus, and Hertz. Nevertheless, the vaccine rollout brings some cause for optimism in 2021, with 316 million doses administered worldwide so far. 
Questions:
How did the onset of the coronavirus pandemic change the world economy a year ago?
Why are analysts optimistic that the U.S. will complete its economic recovery this year?
Source: Helen T. Verongos, Andrea Kannapell and Bryan Pietsch, "The W.H.O. Declared the Coronavirus Pandemic a Year Ago. Look Back With Us," The New York Times, March 11, 2021. Photo by Chad Davis.