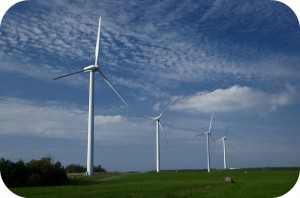 In recent years companies have been under increasing public pressure to ditch fossil fuels and switch to renewable energy sources like wind or solar power. Although this idea may be easy to accept from an ethical standpoint, the high costs associated with such a drastic change have sometimes prevented companies from taking action. This excuse isn't as reliable as it used to be, however. In the past year renewable energy prices have fallen worldwide. As a result, more companies than ever are beginning to go green.
The price of wind power fell last year to an average of $29 per megawatt-hour, a 27 percent drop from 2012. Solar prices plummeted as well, falling by one-fifth since 2012 to just $57. American companies took full advantage of this downturn by purchasing 3,440 megawatts of solar and wind power in 2015. This record figure is nearly three times the amount that businesses bought the previous year. In fact, experts say that using that much renewable energy rather than fossil fuel is equivalent to taking 1.4 million cars off the road. "It's a combination of social pressure on large, visible corporations to do good for the world, and the fact that today you can sign deals that are attractive economically," said Herve Touati of the Rocky Mountain Institute, a clean-energy think tank.
Some of the biggest corporations in the country purchased long-term renewable energy contracts in 2015. General Motors, for instance, announced last year that one of its assembly lines would generate half its energy from a wind farm in West Texas. All told, the company says it's saved more than $80 million from environmentally friendly investments since 1993. Wal-Mart, on the other hand, is increasingly depending on solar power for its clean energy needs. So far the retailer has installed about 350 commercial solar panels on its buildings, outpacing every other corporation according to the Solar Energy Industries Association. Within four years, Wal-Mart aims to save $1 billion by doubling its renewable energy sources and cutting electricity use by 20 percent. "The financial impact is important to us," said David Ozment, Wal-Mart's senior director of energy. "Our customers vote with their pocket books."
Questions:  
Will companies stick with solar and wind power if the price of renewable energy spikes again? 
Besides saving money, what other benefits do companies receive from renewable energy sources?
Source: Cassandra Sweet, "Companies Go Green on Their Own Steam," The Wall Street Journal, March 8, 2016. Photo by Jeff Kubina.