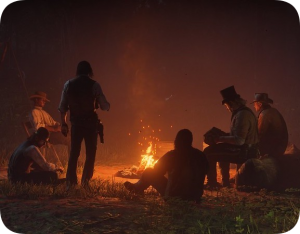 For many Americans who have been working from home for six months, each day can seem like the same procession of Zoom meetings and email exchanges. As a result, some professionals have had trouble scheduling meetings with new clients who don't want to add another video chat to their already packed calendars. For example, a Brooklyn-based ad executive named Lewis Smithingham tried for weeks to set up a meeting with an investment analyst only to receive a string of postponements and reschedules.
Then one day Smithingham sent the analyst an unusual invitation: "Let's go rob a bank in Grand Theft Auto." Soon the two were in the popular video game world cruising in a stolen car and discussing business in between virtual mayhem. This video gaming session broke the ice and allowed Smithingham to develop a relationship that would not likely have happened on a Zoom call. "It's my golf," said Smithingham. Rather than meeting up on the links for a round, today's managers and executives can head into multiplayer video game worlds to bond over a shared, socially distant activity while also talking shop.
British author and artist Vivianne Schwarz began holding meetings with her editorial team in the multiplayer world for Red Dead Redemption 2, a cowboy game with gorgeous Western scenery. Although her employees enjoyed gathering around a mountainside campfire for their meetings, these meetings could also be interrupted by other players as well as glitches within the game. "Sometimes the meeting table doesn't exist for everyone, and sitting on the ground is the same button as attempting to strangle the nearest person," said Ms. Schwarz. Despite these technical issues, though, she claimed that having meetings in video games "still beats Zoom."
Questions:
Why are some managers starting to hold meetings in video game worlds rather than through platforms like Zoom?
What are the advantages and disadvantages of holding meetings in video game worlds like Grand Theft Auto and Red Dead Redemption 2? 
Source: David Segal, "'Hey, You Free on Friday for a Meeting and a Bank Heist?'" The New York Times, July 31, 2020.