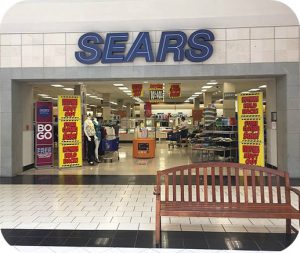 In today's retail environment, the most successful companies aim to be one-stop shops where customers can purchase everything they need in a single trip. And while modern shoppers might associate this strategy with firms like Walmart and Amazon, experts agree that Sears was the first business to perfect the all-in-one retail plan. Starting out in the late 1800s as a mail-order catalog, the company eventually built thousands of department stores across the country. Consumers at the time had never before seen such a variety of products in one place, which made Sears a revolutionary shopping destination for many people.
"It wasn't the Internet, but it was the same idea that no matter where you are, you can touch and feel and imagine what these different products could mean in your life by virtue of an outreach, a distribution channel that an imaginative and gutsy retailer — in this case Sears — had created and then invested in and then enlarged," said Harvard Business School professor Nancy Koehn. Like many good things in business, though, the edge that Sears held over its competition didn't last forever. The company fell behind during the 1990s as other retailers copied its business model and its brand grew stale. With debts starting to pile up, Sears slashed its advertising budget, sold off popular brands like Craftsman, and began closing stores in an effort further cut costs. By 2017, only 700 locations remained open as its owner announced a major restructuring plan.
But with more than $5.5 billion in outstanding debts hanging over its head, Sears ultimately couldn't steady the ship on its own. That's why last week the retailer announced that it was filing for Chapter 11 bankruptcy. Although Sears intends to remain in business, the company plans to close at least 180 stores by the end of the year. Sears must also find a buyer to purchase its remaining locations, which could be a hard deal to broker considering the current state of retail. Regardless of what happens to the company in the coming months, however, the bankruptcy of Sears truly marks the end of an era in American retail.
Questions:
Why was Sears considered to be such a revolutionary retailer at the height of its power?
What factors caused Sears to decline in recent years?
Sources: Emily Sullivan, "Sears, Drowning In Red Ink, Finally Files For Chapter 11 Bankruptcy," NPR, October 15, 2018; Chris Isidore, "Sears, the Store That Changed America, Declares Bankruptcy," CNN, October 15, 2018. Photo by Dough4872.