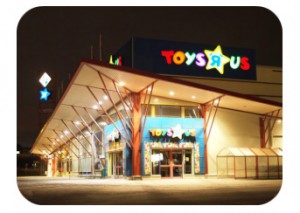 The decline of brick and mortar retail has been one of the biggest business stories of the year, with formerly successful chains like HH Gregg, Payless and others filing for bankruptcy. And this week Toys 'R' Us became the latest company to join this unfortunate group. Like so many other traditional retailers, Toys 'R' Us couldn't keep up with the growing dominance of Amazon. The company's CEO said it would need to slash prices in order to stay afloat, effectively "decreasing its revenue and cash flows in an unrelenting race to the bottom."
Still, the rise of e-commerce doesn't entirely explain why Toys 'R' Us has declined so much in recent years. Many of its problems began in 2005 after a group of investment firms purchased the company in a $7.5 billion leveraged buyout. In order to take Toys 'R' Us private, the retailer's new owners loaded the chain with massive debts that it struggled to pay off. The company's Chapter 11 bankruptcy filing estimated its current debt at $5 billion, costing Toys 'R' Us $400 million annually to service. With so much of its revenue being used to maintain debt, the retailer could not invest the capital it needed to stay competitive.
So far, though, Toys 'R' Us has no plans to close any of its 1,600 stores. The company obtained a $3.1 billion loan that executives will use to stabilize operations and stock up for the holiday season. But while the situation may not be too dire for now, the retail industry's long term outlook is not nearly as promising. The power of Amazon simply cannot be underestimated: one research firm claims that e-commerce could force 10 percent of all retail space to be closed within a few years. In the face of possibly unbeatable competition and crushing debt, the path back to success will be far from easy for Toys 'R' Us.
Questions:
Do you think Toys 'R' Us will eventually make a comeback after filing for bankruptcy?
How did the company's massive debts harm daily operations at Toys 'R' Us?
Source: Dawn McCarty and Daniela Wei, "Toys `R' Us Collapses Into Bankruptcy, Buckling Under LBO Debt," Bloomberg, September 18, 2017. Photo by Tiia Monto.