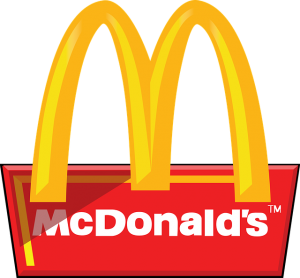 Last week McDonald's scored a major marketing hit when the company flipped its famous Golden Arches into a "W" in honor of International Women's Day. But the logo is far from the only thing the burger chain plans to turn upside down in 2018. In an effort to appeal to environmentally conscious consumers, McDonald's recently announced some big changes that will make it more sustainable. Along with getting rid of styrofoam cups, the chain is also switching to fresh beef in its Quarter Pounder burgers.
McDonald's last took on its polystyrene problem in 1990 when the company eliminated styrofoam "clamshells" for its hamburgers and other items. In fact, the only pieces of polystyrene left at the chain are its large-sized drink containers. While these cups only account for 2 percent of its packaging, McDonald's still goes through millions of them annually. After facing pressure both from environmentalists and shareholders, in January the company announced that styrofoam cups would be removed from its global system by the end of 2018. "It's taken a long time, but better late than never," said Conrad MacKerron, a senior VP with the corporate social responsibility organization As You Sow. Environmental advocates hope that other fast food chains will follow McDonald's lead and drop polystyrene as well.
As for its new commitment to fresh beef, McDonald's may be more concerned with improving quality than pleasing activists. After all, rival chains like Shake Shack and Chick-Fil-A have managed to win over tons of new customers with premium food items that are still affordable. To compete with these increasingly popular brands, about 3,500 McDonald's locations have already started selling Quarter Pounders made with fresh, preservative-free beef patties. The rest of the company's more than 14,000 U.S. locations will make the switch by May. "Our suppliers have invested about $60 million updating their supply chain to be able to make this conversion from frozen to fresh," said McDonald's U.S. president Chris Kempczinski. Some franchisees aren't too enthusiastic about the transition, however, fearing that cooking made-to-order burgers could lead to longer lines at drive-thrus.
Questions:
Do you think McDonald's needs to win over more environmentally conscious customers in order to stay successful? Why or why not?
What are the potential advantages and disadvantages of McDonald's switch to fresh Quarter Pounder beef patties?
Sources: Robert Reed, "McDonald's to Drop Foam Packaging by Year's End," Chicago Tribune, January 10, 2018; Richa Naidu and Lisa Baertlein, "McDonald's Flips to Fresh Beef in 3,500 U.s. Restaurants," Reuters, March 6, 2018.