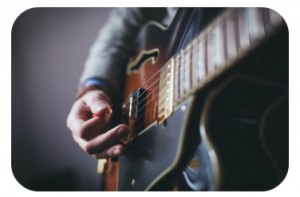 Even before the days of iTunes and Spotify, musicians depended heavily on the money they earned from touring to supplement their album sales. And while streaming services have recently provided a big boost of revenue for the industry, the vast majority of musicians still don't make enough money from their recordings to earn a living. As a result, performing live is often the best option for musicians who want to see a monetary reward for their efforts.
Of course, touring the country as a working musician isn't quite the rock and roll fantasy that some might imagine. Empty venues, cramped vans and long stretches away from home are just a few of the hardships that musicians face when they hit the road. That's why many music makers have turned to live video streaming apps like YouNow and Live.ly for exposure. Along with providing an engaged and enthusiastic audience, these services also allow fans to tip musicians as they play.

The most successful streamers can rake in as much as $20,000 per month from tips. 29-year-old Brent Morgan says he earns that amount in a good month from his twice-daily performances on YouNow. He streams for about three hours each day, playing multiple instruments and creating custom jingles on the spot for tippers. Representatives from YouNow claim that several dozen of its 34 million users earn six figures a year performing music and comedy for their fans. In fact, these platforms have been so successful that Facebook is thinking about adding a tip jar to their live streaming feature. If that happens, apps like YouNow and Live.ly may not be able to compete with the social network's userbase of more than one billion people.
Questions:
Besides making money from tips, what are the other advantages of performing on live video streaming apps?
Will live video streaming apps like YouNow be able to compete with Facebook if the social network adds a tipping feature?
Source: Hannah Karp, "The Future of Music: Playing for $30,000 in Tips," The Wall Street Journal, March 25, 2017.