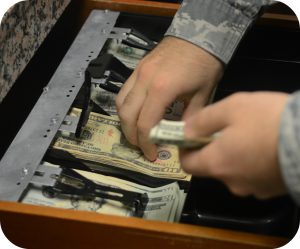 According to a recent Pew Research Center study, approximately 29 percent of Americans said that they don't use cash for any purchases during a typical week. Instead, they depend on credit and debit cards as well as mobile payment apps like Apple Pay. These increasingly cashless consumers are becoming so common that some companies have stopped accepting paper and coin money for the sake of efficiency. For instance, in 2016 the salad chain Sweetgreen announced it was going cashless in order to speed up transactions and reduce the chance of theft.
But while eliminating cash might make things easier for businesses, lawmakers in Philadelphia claim that it creates unnecessary barriers for many consumers. That's why the city recently passed an ordinance requiring retailers to start accepting cash by summer. Supporters of the bill said that cashless businesses discriminate against those who do not have bank accounts, credit or debit cards, or simply prefer to pay for items with cash. "It just seemed to me unfair that I could walk into a coffee shop right across from City Hall, and I had a credit card and could get a cup of coffee," said Philadelphia City Councilman Bill Greenlee. "And the person behind me, who had United States currency, could not."
Retailers that still do not accept cash by the July 1 deadline could face fines as high as $2,000. However, a number of transactions are exempt from the law. Along with parking garages and lots, cashless payments are also acceptable at membership-based businesses as well as rentals that require security deposits. Local business associations have voiced their opposition to the law, claiming it could deter companies from doing business in Philadelphia. "It is important that Philadelphia remain competitive and a place where businesses want to locate as opposed to putting up roadblocks to future investment and business growth," said Melissa Bova, vice president for government affairs at the Pennsylvania Restaurant & Lodging Association. Despite these concerns, though, lawmakers in cities like New York, San Francisco, and Chicago are considering introducing similar legislation.
Questions:
Why did lawmakers in Philadelphia recently pass a law requiring retailers to accept cash payments?
Do you think Philadelphia's new law will deter companies from doing business in the city? Why or why not?
Source: Karen Zraick, "Philadelphia Bans 'Cashless' Stores Amid Growing Backlash," The New York Times, March 7, 2019.