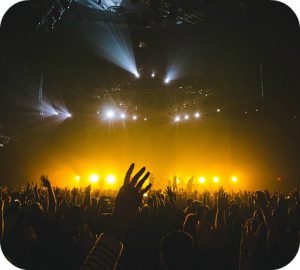 On March 1 the Backstreet Boys began a residency at Planet Hollywood's Zappos Theater in Las Vegas that will run for 80 nights through the end of April. Although the legendary boy band are certainly playing plenty of shows, getting a ticket for one doesn't come cheap. For instance, it costs up to $250 for a spot in the general admission area in front of the stage. For concertgoers who want to quickly find a good place to stand, though, they can spend an additional $500 for early access as well as a meet-and-greet with "the boys."
While this might seem excessive to some, it's a dream come true for superfans like Rebekah Avis of Bakersfield, California. Not only does Avis plan to be in attendance for 76 nights of the Backstreet Boys' residency, but she has also upgraded to the $500 VIP package for many of those dates. "It's worth it to me because I feel like I'm part of something big," said Avis. "Backstreet Boys are total icons and I can say I know them." Fans like Avis are becoming increasingly important for touring musicians both big and small. As record sales continue to plummet and streaming services fail to make up the difference, VIP experiences are providing many artists with a vital source of revenue.
Meet-and-greets can be especially helpful for up-and-coming musicians dealing with the enormous overhead costs of touring. In fact, artists who normally charge between $20 to $40 for admission can earn an additional $25,000 to $100,000 on tour by offering VIP packages on top of regular ticket prices. "These artists don't know about selling CDs and radio play," said Eddie Meehan, co-founder of a VIP services company. "This is where they can engage and make a little money." What's more, today's artists earn as much as 90 percent of their income from touring. Adding VIP packages can ensure that a group stays on the road and working, as it did for the new boy band 4th Avenue. The group sold more than 2,000 VIP experiences on its tour last year, accounting for almost half the tour's revenue and allowing them to add a second leg of dates across 18 cities.
Questions:
Why are VIP meet-and-greets becoming an increasingly important source of revenue for touring musicians?
Why is it especially helpful for up-and-coming artists to engage with fans through VIP experiences?
Source: Anne Steele, "Backstage Selfies With the Backstreet Boys or Bhad Bhabie," The Wall Street Journal, March 6, 2019.