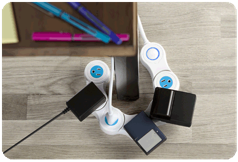 Although many people can think of a great business idea, not everybody has the time or money to see their product come into fruition. That is unless they're lucky enough to have their idea produced by crowd-sourcing manufacturer Quirky. The New York-based company has built a $50 million business by turning user-submitted blueprints into marketable goods.
Each week Quirky receives more than 2,000 invention ideas from its community of approximately 500,000 members. Staffers then select the best ideas of the bunch for the Eval, a highly stage-directed debate about the submissions that is broadcast live over the Internet. Quirky's charismatic CEO Ben Kaufman leads the discussion with members of his 150-strong staff until they decide on three or four products to greenlight. So far the company's biggest success has been the Pivot Power, a flexible power strip that bends to fit every plug. The item's inventor came to Quirky after finding little appreciation for his idea elsewhere, including a NASA product development competition that only rewarded a t-shirt as first prize. Once it hit Quirky the Pivot Power became an instant success and has sold more than 665,000 units so far.
Some amateur inventors remain wary of Quirky since submitting a concept to the site automatically grants intellectual property rights to the company. Nevertheless, Quirky needs to retain full ownership of an idea if it is to develop it to the furthest extent. In fact, the creator of the Pivot Power knew nothing about electrical engineering when he submitted the basic blueprint of his idea. Most Quirky designs are fully realized by the company after what amounts to a spark of inspiration from one of its users. The company doesn't just shine in the R&D room and on the factory floor, though. Besides connections with a number of major retailers, Quirky also recently entered into a partnership with General Electric. The two companies will share patents and release products under a shared Quirky + G.E. brand.
Questions:
What key advantages does Quirky offer budding inventors?
Why are few inventors able to bring their ideas to the market by themselves?
Source: Josh Dean, "Is This the World's Most Creative Manufacturer?" Inc., October 2013.