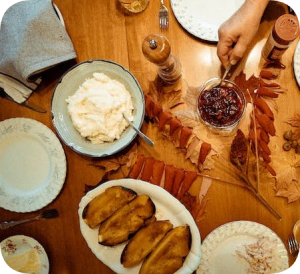 After travel rates plummeted during the pandemic, Americans have been steadily hitting the road and boarding planes every year since. Thanksgiving is usually the busiest time for travel, and 2023 will be no different. From the Wednesday before Turkey Day to the end of the weekend, AAA estimates that there will be more than 55.4 million people traveling in the U.S. The vast majority will travel by car, with 49 million Americans expected to head out on the highway next week.
Meanwhile, the Transportation Security Administration (TSA) is preparing for a record number of passengers in airports during the holiday rush. "The trend is that people are still traveling in very large volumes," said AAA spokesperson Aixa Diaz. "Post-pandemic, the demand for travel just continues to go up year after year, and this Thanksgiving is no exception." In fact, many people will likely start their travels before the middle of next week, outside of AAA predictions and a potential sign of remote work's impact. "Hybrid schedules and remote schedules have changed everything," said Diaz. "Now people can leave for holiday travel at different times."
TSA plans to screen more than 2 million people per day as airlines like United, American, and Delta handle an enormous influx of passengers across tens of thousands of flights. Once they arrive at their destinations, many people will be confronted with higher prices for Thanksgiving staples like turkey and cranberry sauce. "While inflation is not as extreme as last year, it is still present and grocery store prices have still been somewhat variable," said economist Bernt Nelson. Although prices may remain high in the short term, a recent report from Wells Fargo found that steadily improving economic conditions could soon lead to better deals for consumers. "With most food manufacturers operating at full speed based on employment growth and automation, there will be intense pressure on retailers to pass along savings to consumers in the bid for consumer shopping dollars," said Wells Fargo in its report.
Questions:
How have hybrid schedules and remote work possibly changed the ways that Americans travel during holidays? 
Do you think easing inflation will eventually lead to food manufacturers lowering prices for customers? Why or why not?
Sources: Gregory Wallace and Pete Muntean, "Thanksgiving Travel Predicted to Be Busy on the Roads and Record-Setting in the Skies," CNN, November 13, 2023; Sara Chernikoff, "Why is Thanksgiving So Expensive? Here's What the Data Says," USA Today, November 12, 2023.