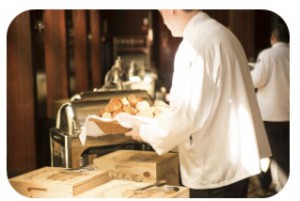 The U.S. economy has managed to add thousands of jobs so far this year thanks to big gains in industries like construction and health care. But even these substantial sectors can't compare to the robust growth of the restaurant industry, which has gained nearly 200,000 new jobs in 2017 alone. And unlike manufacturing or construction work, these jobs aren't localized to a few lucky cities scattered across the nation. Instead, nearly every American metropolis has seen a boom in restaurant positions in recent years.
In Cleveland, restaurants are responsible for more than a third of all new jobs added since 2015. That figure is the same in New Orleans and goes back all the way to 2010. In fact, this trend has been gaining steam for years in culinary-centric cities like San Francisco, Nashville and the Texas capitol of Austin, which leads the nation in percent-growth of restaurant jobs. Smaller metro areas like Little Rock and the military hub of Virginia Beach have enjoyed this expansion of eateries as well. Experts see the nationwide restaurant boom as a consequence of America's three-decade long shift from a manufacturing to a service-based economy. By 2020, restaurants will employ more people than factories.
The country's changing eating habits have also fueled this food service surge. In the 1950s only 25 percent of the average American's food budget went towards eating in restaurants. Today, people spend 50 percent of their budgets on dining out. This has provided an unprecedented boost for the restaurant industry, which has seen four of its five best years for growth occur since 2011. Although this is undoubtedly good news for business owners, some analysts worry that workers won't see many benefits from the boom. After all, a typical restaurant employee earns $12.50 per hour while private sector workers bring in an average of $22 an hour. So even though restaurants can provide plenty of work, there's no guarantee that those jobs will be able to provide a steady living for low-level employees.
Questions:
What factors have led to the recent boom in restaurant jobs?
Why do some consider restaurant jobs to be less desirable than working in the private sector?
Source: Derek Thompson, "Restaurants Are the New Factories," The Atlantic, August 9, 2017.