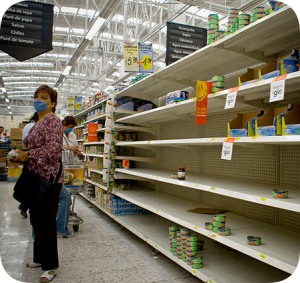 Last week, we looked at how dairy and egg suppliers that primarily work with restaurants are struggling to adapt to a radically changed business environment. And while food companies that service supermarkets are better equipped to deal with the current crisis, many suppliers are now facing labor shortages as an increasing number of employees fall ill with coronavirus. Experts predict that the nation's food supply chains will be disrupted in the coming weeks, potentially resulting in local shortages of certain meats and vegetables at U.S. supermarkets.
Although food supplies overall remain plentiful, distribution problems could prevent shoppers from finding every item on their grocery lists. "You might not get what you want when you want it," said meat industry analyst Christine McCracken. "Consumers like to have a lot of different choices, and the reality is in the short term, we just don't have the labor to make that happen." For instance, a major pork processor called Smithfield Foods closed its South Dakota plant last week after 230 employees contracted Covid-19. That facility alone processes 5 percent of the nation's pork. "The closure of this facility, combined with a growing list of other protein plants that have shuttered across our industry, is pushing our country perilously close to the edge in terms of our meat supply," said Smithfield CEO Kenneth Sullivan.
Food processing companies are especially vulnerable to outbreaks since most employees work shoulder to shoulder, leaving no room to socially distance. Some food firms only provide sick leave to staffers who test positive for coronavirus, a policy that potentially allows thousands of untested but infected workers to spread the disease. Grocery stores are also dealing with labor issues as more employees fall ill or simply don't come into work because they're afraid of becoming sick. These fears are often well-founded: despite being labeled as essential workers, it took weeks for most supermarket employees to receive masks and other protective gear. Experts warn that the U.S. could face further economic disruptions if workers don't receive the support that they need. "Labor is going to be the biggest thing that can break," said Cornell University professor Karan Girotra. "If large numbers of people start getting sick in rural America, all bets are off."
Questions:
Why could U.S. supermarkets face shortages of certain foods in the coming weeks?
Do you think essential employees working in the food industry should be provided with more protection and relief? Why or why not?
Source: Michael Corkery and David Yaffe-Bellany, "U.S. Food Supply Chain Is Strained as Virus Spreads," The New York Times, April 13, 2020. Photo by Hello32020.