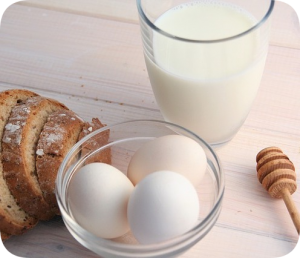 Over the last few weeks, shoppers at supermarkets across the country have stocked up on versatile staples like milk, bread, and eggs that are well-suited for hunkering at home. But as many meat and dairy producers ramp up production to satisfy this increasing demand, food companies that serve clients like restaurants and schools are drastically scaling back. With many eating establishments now closed or take-out only due to coronavirus containment, food suppliers have seen demand for their services plummet. As a result, a number of food companies have either significantly cut production or even thrown out excess stock in order to prevent a catastrophic market-wide price drop.
For instance, one dairy farm in Wisconsin recently dumped 6,000 gallons of milk that they could not sell. In Mississippi a poultry producer began breaking chicken-hatching eggs after demand from restaurants dropped by about 65 percent. Although it might seem obvious for these producers to start selling food to supermarkets, making the transition from restaurants to retail is not as simple as one would think. After all, companies who specialize in single-serving butter packets for diners cannot easily begin to produce large blocks of butter that are suitable for stores. Similarly, dairy processors that make 10-pound bags of shredded cheese for pizza chains cannot convert these massive containers into 8-ounce consumer-friendly bags with a snap of their fingers. 
With no other options available, trade associations like the Dairy Farmers of America have advised companies to curb production or dump items as a last resort. Major dairy producers have also sent a "milk crisis plan" to the U.S. Department of Agriculture that asks legislators to purchase dairy products for national food relief programs. Although restaurant-focused companies will likely continue to struggle during this crisis, experts predict that the overall food supply will remain stable as supermarket-serving firms step up production. 
Questions:
Why has the Covid-19 crisis caused some food companies to dump significant amounts of unsold stock? Do you think it is ethical for them to do so? 
Why is it difficult for food companies who serve restaurants to transition into serving supermarkets?
Source: Jesse Newman and Jacob Bunge, "Farmers Dump Milk, Break Eggs as Coronavirus Restaurant Closings Destroy Demand," The Wall Street Journal, April 9, 2020. Photo by Joanna Dubaj.