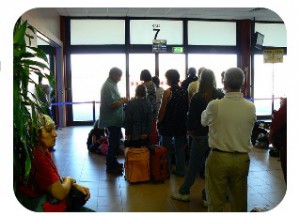 The end of November is always a trying time for travelers. Each year millions of Americans crisscross the country to reach their loved ones for Thanksgiving, leading to congested roads and crowded airports. And for those who hoped this year might be easier, think again. According to the American Automobile Association (AAA), nearly 49 million Americans will travel at least 50 miles from home between Wednesday and Sunday. That amounts to an increase of 1 million people compared to last year, making this the busiest Thanksgiving travel season since 2007.
89 percent of these travelers will hit the road in cars while the rest journey by plane, train or bus. Enterprise Rent-A-Car reported a 5 percent rise in reservations compared to last year, meaning that more people could be renting vehicles during the week. Amtrak transported more than 750,000 passengers in 2016 and predicts that more will be riding the rails this year. Meanwhile, Greyhound expects to draw more than 540,000 customers with added amenities like free Wi-fi. For many, though, the biggest headaches will occur in airports as some 27 million people travel globally on U.S. airlines over the course of the week.
In fact, an increasing number of Americans are starting to treat Thanksgiving as an extended vacation rather than a single holiday. After all, traveling is often such a hassle that many people would prefer to stay at their destination for a while rather than fight crowds at a busy airport. "It's just easier to take a whole week rather than a few days," said Tiffany Torok, a traveler who flew out of San Francisco on Sunday. Representatives at AAA say this willingness to take time off shows that the economy has improved for many Americans. "This is an upward trend that we're seeing, and it's due in large part to an increase in consumer spending, confidence in the economy and people being able to pay off travel expenditures," said AAA spokesperson Cynthia Harris.
Questions:
Do you think this increase in Thanksgiving travel shows that the economy is improving overall?
Why did Thanksgiving travel start to drop off in the U.S. around 2007?
Source: Mary Wisniewski, "More Thanksgiving Travel This Year Expected on Roads, Rails and in the Air," Chicago Tribune, November 20, 2016; Michael Cabanatuan, "Thanksgiving Travel Season Will Be Busy, Last a Week or Longer," San Francisco Gate, November 20, 2016. Photo by Curran Kelleher.