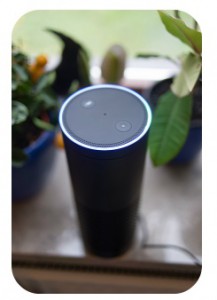 Over this past Christmas season, consumers purchased so many Echo speakers from Amazon that the online retailer ran out by December 20. Of course, the Echo is more than just an ordinary sound system: the hands-free device is powered by Alexa, Amazon's artificial intelligence software. All a user has to do is say "Alexa" and they've got their speaker's attention. Once the device hears this "wake word," it can be commanded to play music or even order groceries from Amazon.
For thousands of users, this convenient feature has become an integral part of their home lives. However, it's a different story for Echo-owning individuals named Alexa or Alexis. Since the device is constantly listening for its wake word, that means it can't distinguish between an actual person's name and its own. So if someone asks their roommate Alexa to grab a soda from the fridge, the Echo might reply by asking if they want to buy a case of Coca-Cola. While a simple "no" cancels any demands, sometimes that's not possible to do. In one instance, a little girl asked the Echo to get her a dollhouse. Two days later a $150 KidKraft Sparkle Mansion arrived on the doorstep, surprising her parents who then donated the set to a hospital.
Along with disabling the purchasing feature, Echo users can also change their wake word to "Amazon" or simply "computer." Given the company's heavy promotion of Alexa as a brand, though, many users don't know they can stop the Echo from recognizing the word. What's more, some real-life Alexas are not pleased to be associated with a talking robot. That's the case with Alexa Duncan, who is sick of hearing the question, "Oh, your name is Alexa, like the Amazon thing?" She refuses to purchase an Echo out of principle. Meanwhile, Amazon is tweaking its advertisements for the device so that they don't accidentally awaken any Echos.
Questions:
Should Amazon be clearer to customers that they can change the Echo's wake word to something other than "Alexa?"
Will artificial intelligence devices like the Echo continue to be popular with consumers?
Source: Joanna Stern, "Alexa, Stop Making Life Miserable for Anyone With a Similar Name!" The Wall Street Journal, January 26, 2016. Photo by Crosa.