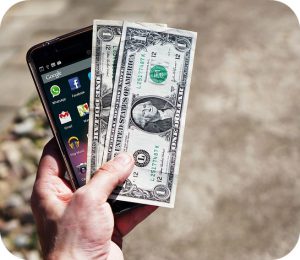 Last week, we took a look at the "robocallers" who use fake caller ID information to trick Americans into picking up their phones. Although they are undoubtedly annoying, these automated messages are far less dangerous than the human scammers who directly target vulnerable consumers. For instance, an older person might receive a threatening call from someone claiming to be with the IRS. The scammer will then tell their victim to send an immediate payment or else risk arrest and imprisonment.
Of course, the IRS never calls citizens with demands for instant cash through shady avenues like prepaid debit or gift cards. Typically, the agency will first send a bill by mail and would never threaten action by the police. "Threats like these are common tactics scam artists use to trick victims into buying into their schemes," said an IRS representative. Still, this fact hasn't stopped scammers from successfully swindling money from many unsuspecting Americans. In fact, one particular scheme cheated hundreds of millions of dollars from more than 15,000 people over the course of four years. The scam also compromised the personal information of more than 50,000 people as thieves routed money through Indian call centers before eventually bringing the cash back to the U.S.
After a long investigation, though, police arrested dozens of people in connection with the racket. And last week the Justice Department announced that the case had led to 21 convictions, with some conspirators receiving sentences as high as 20 years in prison. What's more, police in India have also indicted 32 people from five call centers on charges of wire fraud and money laundering. Authorities in both countries hope that these harsh sentences and arrests will discourage large-scale scammers in the future. This problem is far from solved, however, so be wary about any so-called IRS representatives who may call your phone.
Questions:
Will harsh jail sentences discourage thieves from starting large-scale phone scams? Why or why not?
Why do you think scammers like to pose as IRS representatives?
Source: Christine Hauser, "U.S. Breaks Up Fake I.R.S. Phone Scam Operation," The New York Times, July 23, 2018.