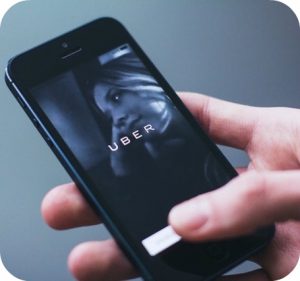 Today, Uber will start to trade shares on the New York Stock Exchange in one of the mostly highly anticipated IPOs ever. Although the ride-hailing service had been pushing for a $100 billion valuation, it began the day trading at $45 per share, amounting to a valuation of about $82.4 billion. This enormous windfall will create instant fortunes for those who invested early in Uber. For the company's millions of drivers, however, it's unlikely they will benefit that much from Uber's historic IPO.
In fact, many rideshare drivers say their pay has steadily fallen as startups like Uber and Lyft grew in popularity. That's why on Wednesday thousands of rideshare drivers in cities across the world went on strike to protest the wage policies of these companies. Both Uber and Lyft classify their workers as independent contractors, meaning they aren't entitled to rights such as sick leave, overtime, or minimum wage. According to a striking Uber driver named Vinni from San Francisco, he earned $2.20 per mile when he started at the company in 2013. Six years later, he now brings in just 92 cents a mile. Vinni was one of several hundred people who showed up to protest in front of Uber's San Francisco headquarters just days before the company's IPO. Similar strikes occurred in major U.S. cities like Los Angeles, New York, and Chicago as well as global metropolises like London and Sao Paulo, Brazil.
Along with demands for livable incomes and regulated fares, the striking Uber and Lyft drivers also advocated for better job security and improved working conditions. Of course, obtaining these concessions from rideshare companies won't be easy. The strike on Wednesday didn't really disrupt service in many cities since it's difficult to organize large groups of independent contractors. Many others likely kept on driving either because they didn't know about the strike or because they couldn't afford to take the day off. Still, the protest caught the attention of millions of social media users as well as a number of progressive politicians. Only time will tell if this pressure from workers, the public, and legislators will have any effect on the employment policies at Uber and Lyft.
Questions:
Why did rideshare drivers organize a strike days before Uber's IPO?
Do you think pressure from the public and legislators could convince Uber and Lyft to change their employment policies? Why or why not?
Sources: April Glaser, "The Ride-Hail Strike Got Just Enough Attention to Terrify Uber," Slate, May 9, 2019; Michael J. de la Merced and Kate Conger, "Uber I.P.O. Values Ride-Hailing Giant at $82.4 Billion," The New York Times, May 9, 2019.