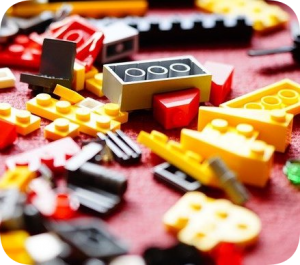 Last year, the Danish building-block company Lego earned more than 7 billion euros in sales, making it far and away the top toymaker in the world. Once on the brink of bankruptcy in the early 2000s, Lego turned things around when it focused exclusively on construction bricks along with licensed sets based on popular franchises like Star Wars and Harry Potter. Now the company's dominance extends even into the offices of the world's biggest corporations as part of team-building exercises intended to foster communication and creativity.
For example, engineers at the German company Metafinanz initially laughed when they spotted piles of Lego waiting for them on a conference room table. "But by the time we were done, the biggest critics had become the system's loudest champions," said Matthias Gotz, a strategist at the Munich-based consulting firm. The team at Metafinanz were taking part in a training program called Lego Serious Play (LSP), where employees must address company concerns or goals by first building a small Lego model from just a few bricks. Once they have finished their construction, they describe what they made and the reasons why they made it. "I often find that they build the model with assumptions that were not already explained, allowing us to dig in to find the true root cause of the problem," said Jessica Milmeister, director of enterprise quality at a government services firm.
Developed more than two decades ago, LSP has been used by prominent organizations like Harvard Business School, Microsoft, Google, Procter & Gamble, Visa, and many others. Workshops can cost anywhere from $500 to $5,000 and are overseen by certified LSP facilitators, a collection of more than 13,000 experts located across the world. "Two years ago, there weren't many U.S.-based facilitators like myself, but it's exploding here now," said psychology professor Wendi McGehee. Other companies have made the building blocks an everyday part of office life, such as Google's Lego room on its New York campus where employees can work through problems and stimulate creativity while constructing models. 
Questions:
What are the benefits of training programs like Lego Serious Play?
Do you think more companies should make Lego an established part of office life? Why or why not?
Source: Daryl Austin, "Why More Companies Are Putting Lego Bricks in the Office," The Wall Street Journal, August 28, 2022.