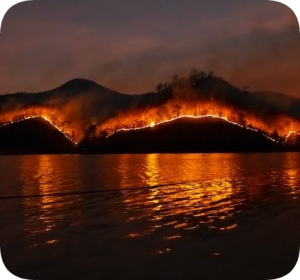 Last week, wildfires on the Hawaiian island of Maui caused unprecedented destruction, killing 106 people and leveling thousands of buildings. The worst damage occurred in the resort town of Lahaina, which will cost billions of dollars and several years to rebuild. Like many other Hawaiian communities, Lahaina relies heavily on the tourism industry, drawing 2 million visitors annually. Of course, thousands of tourists and residents have evacuated the town and the western side of Maui in recent weeks as dry conditions on the island allow wildfires to continue burning.
While ensuring the safety of people on Maui is the central concern of authorities currently, soon enough the economic toll of this disaster will also come to light. Hawaii's tourism industry had just started to recover from the pandemic, when travel restrictions and Covid outbreaks greatly reduced the number of annual visitors. This downward trend was beginning to reverse earlier this year, with visitors to Maui up 6 percent from the same time last year. In fact, 4 out of every 5 dollars generated on the island comes directly from tourism. According to the Hawaii Tourism Authority, the industry "touches every aspect" of Maui and is "irrefutably the 'economic engine'" of the island, with tourism accounting for 75 percent of private sector jobs.
All of that economic activity will be put on hold for the foreseeable future as Hawaiins rebuild their communities and mourn those they have lost. But along with missing out on vital tourist revenue, residents of Lahaina are also worried that this disaster could attract the attention of a new wave of real estate investors. "I'm more concerned of big land developers coming in and seeing this charred land as an opportunity to rebuild," said Lahaina local Richy Palalay. According to him and many other residents, it's the hotels and resorts "that we can't afford, that we can't afford to live in — that's what we're afraid of." Transplants from the American mainland had already been buying up large amounts of property on Maui before the disaster, and residents hope that officials will put regulations in place to prevent this from continuing in the aftermath of the tragedy. (Click here for a list of organizations currently seeking donations for wildfire relief efforts on Maui.) 
Questions:
Why is tourism so vital to Hawaii's economy, and how will it be affected by the recent wildfires?
Do you think regulations should be put in place preventing outside property developers from buying land in Maui after the wildfires? Why or why not?
Sources: Nathaniel Meyersohn, "Maui's Economy Was Recovering From the Pandemic. Wildfires Are Dealing a Shattering Blow," CNN, August 10, 2023; Marco Garcia, "Maui Fires: Hawaii Death Toll Hits 55, Recovery to Take Years," Reuters, August 11, 2023; Audrey McAvoy and Claire Rush, "Lahaina Residents Worry a Rebuilt Maui Town Could Slip Into the Hands of Affluent Outsiders," Associated Press, August 13, 2023.