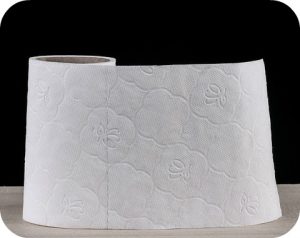 Last week, we took a look at the logistical nightmare that caused hundreds of British KFCs to close due to a lack of chicken. And while the company seems to have solved this issue for now, another strange supply chain problem is frustrating consumers halfway around the world. This time, however, the product in question is a bit more essential to daily life than fried chicken.
Over the weekend in Taiwan, panicked shoppers rushed to stores so they could purchase as much toilet paper as possible. The TP tensions began when local media outlets reported that manufacturers were set to raise the product's price by as much as 30 percent in the next month. The region's largest suppliers blamed the problem on forest fires in Canada as well as production disruptions in Brazil that drastically reduced global wood pulp supplies. In fact, one Taiwanese toilet paper manufacturer claimed that pulp costs had ballooned by 50 percent since the middle of 2017. As this news began to spread on social media, thousands of consumers flooded retailers to buy toilet paper in bulk. While many claimed to be getting a step ahead of the rising prices, others said they simply wanted to stock up before stores ran out entirely.
Soon social media became filled with posts featuring photos of empty shelves, confirming the fears of some of the country's most worried consumers. Finally, Taiwan's government stepped in to address the crisis and ease the panic. Officials first announced they had received promises from the country's major toilet paper suppliers that prices would not start to rise until mid-March. Additionally, Taiwan's Department of Consumer Protection will investigate whether or not companies colluded with one another to create this price hike. With these measures in place, experts say that toilet paper prices in Taiwan could remain stable. Meanwhile in the U.S., strong competition between household goods companies could cause toilet paper prices to fall this year despite increased costs.  
Questions:
Why do shortages of essential items like toilet paper cause some consumers to panic?
What are the causes of Taiwan's potential toilet paper price hike? Why aren't prices set to rise in the U.S. as well?
Sources: "Taiwan Toilet Paper Panic: Why Is Island Caught Short?" BBC, February 26, 2018; Yu-Huay Sun, "Don't Hoard Toilet Paper, Taiwan's Premier Tells Public," Bloomberg, February 26, 2018.