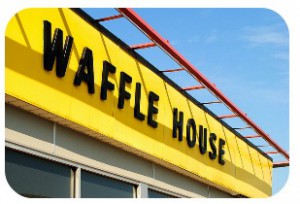 As of this writing, Hurricane Matthew is currently roaring up the Carolina coast. (Hopefully anyone from the area reading this post is doing so in a safe, relatively dry place.) Federal and state officials flooded social media and television urging residents to evacuate the area before the cyclone hit land. Nevertheless, some people ignored their warnings and stayed put. In most cases, the diner chain Waffle House would be among these stubborn stragglers. The company has an official policy in place to remain open during natural disasters.
Then again, if a storm is bad enough not even the stalwart 24-hour eatery can keep their doors open. Hurricane Matthew is indeed such a storm, leading to the temporary closing of at least 25 Waffle House locations in South Carolina, Georgia and Florida. In severe weather circles, this number is informally referred to as the Waffle House Index. The figure helps responders quickly assess the extent of a natural disaster's damage, the idea being that a closed Waffle House means other businesses must be even worse off. For instance, in 2011 Hurricane Irene cut the power at 22 locations on the mid-Atlantic coast. "If you get [to a place where a disaster hit] and the Waffle House is closed? That's really bad," said FEMA administrator Craig Fugate at the time.
As a 24-hour operation, any interruptions in Waffle House's service can have a noticeable impact on sales. This makes owners reluctant to shut down even when disastrous weather is approaching. "When it comes to making the final decision, we let our operations team on the ground, like individual restaurant managers, make the final decision based on local conditions," said Waffle House's vice president of culture Pat Warner. "But our job [as corporate officials] is to give them all the support they need to stay open."
Questions:
Why are Waffle House owners so hesitant to close during bad storms?
What can the amount of closed Waffle House restaurants tell us about the impact of a natural disaster?
Source: Elena Holodny, "25 Waffle Houses Closed Amid Hurricane Matthew — Here's What That Means About the Storm," Business Insider, October 7, 2016. Photo by: Bob B. Brown.