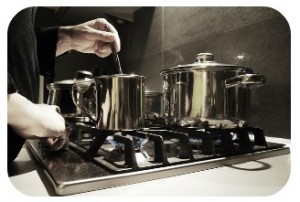 For those who have spent years ordering items from online retailers like Amazon, setting foot inside a store can sometimes seem like taking a trip back in time. But while the shift away from brick-and-mortar locations has utterly changed industries like music and clothing, grocery stores have remained largely the same since the dawn of the digital revolution. After all, most people still prefer to examine food in person before they buy it.
But that hasn't stopped a collection of startups from attempting to disrupt the traditional grocery store experience. In the early days of online retail, companies tried to replace local supermarkets by offering to deliver food straight to customers' doors. The strategy failed to catch on with much of the public, however, who still preferred to gather the week's groceries themselves. In recent years, companies have altered their approach by focusing on individual meals rather than bulk orders. The startup Blue Apron, for instance, sends its subscribers a box with all ingredients portioned with step-by-step cooking instructions. Not only do customers get to skip a trip to the grocery store, but they also receive recipes and ingredients they might not normally purchase.
Plus, this system lets startups beef up their branding through partnerships with famous names in the food world. While HelloFresh boasts exclusive recipes from celebrity chef Jamie Oliver, another meal-delivery company called Marley Spoon has enlisted Martha Stewart for the same task. This isn't the case at Blue Apron, though. Instead, the company depends on catching consumers' eyes with uncommon ingredients like Atlas carrots and Shokichi Shiro squash. In fact, Blue Apron estimates that it will purchase this year's entire crop of fairytale eggplants, a tiny seedless version of the ordinary veggie. Since the company depends on such obscure produce, they also work closely with local farmers in order to provide just the right amount of supply to meet demand. Blue Apron hopes that this unique way of delivering food will finally convince consumers to take fewer trips to the grocery store.
According to a recent investigation by Buzzfeed News, however, the company has a long way to go before it can compete on a larger stage. At least one of Blue Apron's packing facilities has come under criticism from both current and former employees who reported health and safety violations as well as incidences of violent conduct. Observers blame the company's efforts to scale up quickly for creating "a chaotic, stressful environment." If Blue Apron truly wants to thrive in the future, the company must figure out how to create acceptable conditions for its staff in the short term.
Questions:
Will meal-delivery startups like Blue Apron catch on with consumers?
Why are supermarkets so difficult for startups to disrupt?

Source: Sarah Halzack, "Why This Start-up Wants to Put Vegetables You've Never Heard of on Your Dinner Table," The Washington Post, June 15, 2016; Caroline O'Donovan, "The Not-So-Wholesome Reality Behind The Making of Your Meal Kit," BuzzFeed, October 2, 2016. Photo by Damian Siwiaszczyk.