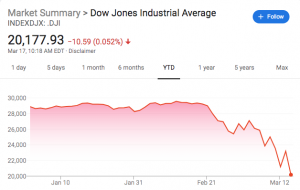 Fears over the spread of coronavirus have upended daily life for millions of Americans and countless businesses. The CDC has recommended that organizations cancel any events with 50 or more people, and restaurants around the country are either switching to take-out only or closing entirely. As a result of the uncertainty surrounding this health crisis, financial markets around the globe are experiencing near-record drops in value. In fact, on Monday the Dow Jones Industrial Average plummeted by about 3,000 points, representing a bigger single-day percentage decline than the crash that preceded the Great Depression in 1929.
The S&P 500 index is down 30 percent from the all-time high that it reached less than a month ago. Meanwhile, tech giants like Apple and Microsoft saw shares fall by more than 12 percent, and some big banks experienced 20 percent one-day drops. Although the Federal Reserve attempted to contain some of the damage, none of the emergency financial measures that the central bank employed could relieve the market's overall uncertainty. "This is what panic looks like," said financial manager Patrick Healey. "It doesn't matter what the Fed did over the weekend or what they could have done, the trading activity in the market is reflective of fear and uncertainty. The only thing that is going to calm markets is seeing the number of [coronavirus] cases go down."
Along with damaging large businesses that trade on major stock exchanges, the coronavirus pandemic will also inflict untold financial pain on thousands of small businesses. "There is going to be a significant hit to economic activity for any country with containment measures," said analyst Seema Shah. "We're not going shopping, we're not going to buy lunch. The impact on smaller and medium-sized businesses is going to be enormous." In the coming days, experts expect government regulators will respond to the crisis by implementing some sort of economic stimulus plan, although details remain scarce at this time. 
Questions:
Do you think federal regulators should bail out major industries affected by the coronavirus outbreak? Why or why not?
How will fears and uncertainty over coronavirus impact small businesses like retailers and restaurants?
Source: Caitlin McCabe, Anna Hirtenstein and Chong Koh Ping, "Dow Plummets Nearly 3,000 Points as Virus Fears Spread," The Wall Street Journal, March 16, 2020.