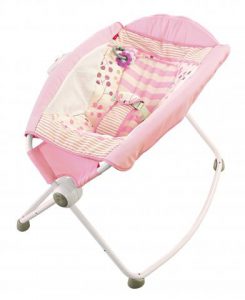 For more than a decade, the Fisher-Price Rock 'n Play Sleeper has been a staple product for many new parents. This vibrating, cloth-covered cradle allows a baby to lay at an incline while rocking back and forth, helping them sleep as well as soothing symptoms like congestion and acid reflux. So it came as a major shock to many parents last week when Fisher-Price announced that it was recalling more than 5 million Rock n' Plays.
The American Academy of Pediatrics (AAP) described the cradle as "deadly" since it allows babies to sleep at an incline while restrained. "Infants should always sleep on their back, on a separate, flat and firm sleep surface without any bumpers or bedding," said Rachel Moon, head of the AAP's Task Force on Sudden Infant Death Syndrome. According to a Consumer Reports investigation, as many as 32 children have died as a result of asphyxia in the Rock 'n Play. Fisher-Price is offering full refunds to customers who purchased Rock 'n Play cradles within the last six months. "It feels like mental whiplash," said Heather Lenox, a mother of five from Wisconsin. "This is a product that's supposed to be helpful, but now all of a sudden you're telling me it's harmful."
At the same time, some parents remain unconvinced that an essential product like the Rock 'n Play could actually be dangerous. "When we heard about the recall, my friends and I all had the same reaction: Total shock," said New Jersey mother Rachel Tombari. Within minutes, though, she and her friends came to an agreement: "There's no way we're sending back our Rock 'n Plays." It's possible that parents like these don't understand the full gravity of the situation due to a series of miscommunications that coincided with the recall's announcement. Initial reports claimed children died by rolling over unrestrained in the cradle, not by asphyxiation. Although Consumer Reports eventually set the record straight, some parents either did not receive this information or remain confused about the cause of the recall.
Questions:
Do you think the recall of the Rock 'n Play will cause parents to distrust Fisher-Price? Why or why not?
Why is it important for companies to clearly communicate the reasons behind a product recall? Do you think Fisher-Price failed to do so with the Rock 'n Play?
Source: Abha Bhattarai, "Parents Dread Life 'Without a Rock 'n Play': Fisher-Price Recall Triggers Shock and Frustration," The Washington Post, April 16, 2019. Photo by United States Consumer Product Safety Commission.