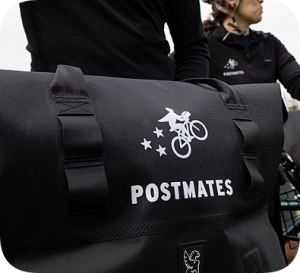 In recent years food delivery startups like Postmates and Doordash have grown into multi-billion dollar operations by bringing takeout from all sorts of places directly to customers' doors. But these companies don't just service restaurants: people can also order everyday items from Walgreens or 7-Eleven and receive them hours later. Of course, consumers are more familiar with Postmates and Doordash as takeout services, not grocery delivery companies. 
As a result, both startups are brokering deals with retailers and supermarkets to increase their reach in the delivery industry. For example, Doordash recently struck an agreement with the e-commerce outlet Mercato to deliver products from about 750 independent grocers across 22 states. Then this week Postmates announced it developed a partnership with Walgreens and Duane Reade to make deliveries from hundreds of pharmacies across New York City. Uber Eats also plans to expand into grocery delivery in the near future.
Nevertheless, these companies will face a lot of tough competition from established operations like Instacart and Amazon. What's more, studies show that many consumers still don't trust outside services to do their grocery shopping. In fact, one survey found that 56 percent of consumers don't order groceries online because they believe it's cheaper to just go to the store themselves. Others claim they've had bad experiences with delivery services that make mistakes with their orders. Finally, it's possible that gig economy startups like Postmates or Uber Eats might not be sustainable in the long term. While Postmates recorded nearly $900 million in gross sales in 2017, it also posted $75 million in operating losses. And according to one recent analysis, Uber Eats loses approximately $3.36 on every order it delivers. The company hopes to reduce that loss to 24 cents per order by 2024. 
Questions:
Why are Postmates and Doordash expanding into grocery deliveries? 
Do you think delivery services like Postmates and Uber Eats will be sustainable in the long term? Why or why not?
Source: Heather Haddon and Jaewon Kang, "Postmates, DoorDash Want to Deliver Your Groceries, Too," The Wall Street Journal, October 2, 2019. Photo by Postmates.