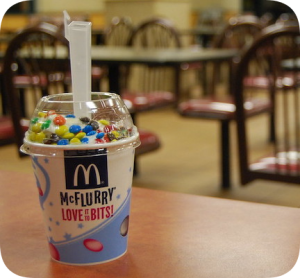 It's a scenario that plenty of fast food fans have faced before: they pull up to the drive-thru speaker at McDonald's and ask for their favorite frozen treat, only to hear the reply, "Sorry, but the machine is broken right now." Responsible for about 60 percent of the chain's desserts, the McFlurry machine is a vital asset for Golden Arches franchises across the country, even though their unreliability has become something of a running joke. Along with serving as the basis for marketing campaigns from Jack in the Box and Wendy's, a crowdsourced website called Mcbroken also keeps track of busted McFlurry machines across the country.
In fact, the problem got so out of hand that earlier this year the Federal Trade Commission (FTC) contacted several McDonanld's locations about the often inoperative appliances. According to franchisees, the overly complicated McFlurry machines are exceedingly difficult to fix when they break down. These devices undergo a nightly automated cleaning cycle that can take as long as four hours, unless the process fails and results in yet another out-of-commission McFlurry machine. This inevitably leads to even more jokes at the chain's expense, but franchisees aren't laughing. 
"We are tired of being the butt of late night jokes," said the National Owners Association, a group of McDonald's franchisees. "So are our customers and crews." One of the few options owners have when faced with a broken machine is to call a representative from Taylor Commercial Foodservice, the company that manufactures the appliances. But wait times for repairs have increased exponentially during the pandemic, causing some franchisees to train their employees on how to fix McFlurry machines themselves. A company called Kytch recently developed a breakdown-spotter for the devices that quickly lets owners know when there is a problem. One of the gadget's main selling points is that it displays error messages in English, something that Taylor has not built into current McFlurry machines.
Questions:
Why did the FTC recently reach out to some McDonald's franchisees? 
Do you think McDonald's corporate should do more to help franchisees with broken McFlurry machines? Why or why not?
Source: Heather Haddon, "McDonald's McFlurry Machine Is Broken (Again). Now the FTC Is On It," The Wall Street Journal, September 1, 2021. Photo by LadyDucayne.