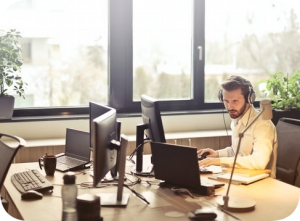 Although fewer people could be traveling in the coming months due to the delta variant, this summer airlines got slammed with vaccinated vacationers who were ready to fly. Unfortunately for travelers, though, some understaffed carriers were not exactly prepared to handle their return. During the height of the pandemic, airlines offered buyouts or encouraged retirement to many behind the scenes staffers. This led to employee shortages at many carriers, with Delta Air Lines reporting that its call center staff was reduced by 50 percent.
As a result, customer service phone calls that would normally be quick fixes have instead led to huge wait times that are testing people's patience. For instance, one TV producer from California said that they waited on the phone for 280 minutes for a representative to help him change a flight. Another unlucky customer reported that they stayed on hold for hours across three days in order to switch a flight for his son. Airlines plan to hire more staff in response to this increase in demand, with JetBlue saying that it will add 4,000 crew members this year.
Still, some travelers don't want to risk dealing with potentially time-consuming tasks while also dealing with an ongoing pandemic. That's why travel agencies have once again become popular among people who want someone else to plan a trip during these uncertain times. "With the pandemic, our credibility and our necessity have gone off the charts, and I think we're now advocates," said travel agent Jennifer Wilson-Buttigieg. "Travel is possible. It's just difficult." Results from a recent survey show that travelers are now more likely than ever to consult with an outside party about their itineraries, which is a big change from recent years where travelers largely self-booked online. 
Questions:
Why are airlines like Delta currently experiencing a shortage of employees like call center workers?
Why are travel agents returning to popularity with today's travelers?
Source: Allison Pohle and Krystal Hur, "Need to Call an Airline? Your Hold Time Will Be Approximately One Zillion Hours," The Wall Street Journal, August 31, 2021; Scott McCartney, "Travel Agencies Are Having a Moment Amid Covid-19 Chaos," The Wall Street Journal, September 1, 2021.