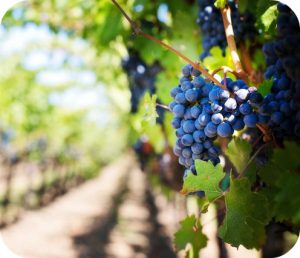 For the last few weeks wildfires have ravaged the northern portion of California, claiming dozens of lives and destroying at least 5,700 buildings. This catastrophic state of affairs is a far cry from the sunny paradise that many imagine when they think of wine country. In fact, October and November are usually the region's busiest months as tourists arrive by the busload to sample vintages and enjoy the countryside. Not this year, though: one winery owner said she's already received 250 cancellations for next month.
"My team is losing tasting fees, sales, tips, commissions, wages — it's a lot," said Julie Johnson, owner of Tres Sabores winery. "How can I provide for my team? That's the thought in my head." Many other wineries are asking similar questions as they assess damages to their assets as well as their long-term business plans. Despite this heap of bad news, though, California winemakers were also overjoyed to learn that most of the region's vineyards remained untouched by the flames. These fields are the most precious resource for the wineries of Napa and Sonoma Valley, and their survival saved the region from total economic devastation.
Still, the fires damaged some vineyards in a way that could have a big impact on the short-term plans of some wineries. While the region's crop of white grapes had been harvested before the wildfires, many red varieties remained on the vine as flames tore through the valleys. These grapes then stewed in fumes for weeks, potentially infecting them with "smoke taint" that can leave wine tasting ashy and burnt. As a result, many winemakers are not mentioning whether or not they left grapes on the vine during the fires. With so many of the region's wineries in immediate need of cash, they can't afford to give customers the image that the 2017 vintage has been ruined.
But while the future of Northern California's wine country remains to be seen, right now the rest of the region could still use all the help it can get. Click this link for a variety of ways you can help the wildfire relief effort today.
Questions:
Do you think Northern California wineries should tell customers whether or not they left grapes on the vine during the wildfires?
How can Northern California's wine country recover from this crisis? Do you think wildfires will continue to be a problem for the region in the future?
Sources: Eric Asimov, "Wildfires Spared the Vineyards, but the Wines Could Suffer," The New York Times, October 20, 2017; "Northern California Fires Have Destroyed at Least 5,700 Buildings," The New York Times, October 14, 2017.