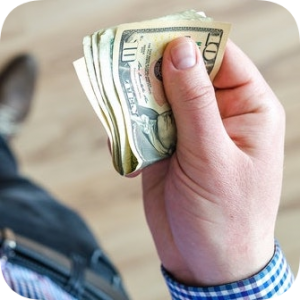 Rather than worry about having cash on hand, many American consumers now prefer to use credit or debit cards as their preferred methods of payment. Companies are usually happy to oblige cashless customers since cards are easy to process and keep busy lines moving. In fact, a number of retailers and restaurants across the country have switched to cashless payment models that rely entirely on cards or mobile apps. According to consumer advocates and lawmakers, however, these businesses could be discriminating against people who either can't get credit or choose to depend on cash.
As a result, legislators in several U.S. cities and states have recently passed laws requiring companies to accept cash or else face fines. New York City is the latest place to enact such legislation after its city council voted overwhelmingly in favor of a cashless ban last month. "Consumers should have the right to choose if they want to pay in cash or not," said New York City Councilmember Ritchie Torres. "We are reining in the excesses of the digital economy." Businesses that violate the law will be required to pay a $1,000 fine that increases to $1,500 for each subsequent offense. Companies can get exemptions if they provide customers with machines that will convert their cash into temporary cards, as long as they require no fee to use.  
Supporters claim that the requirement to accept cash will benefit hundreds of thousands of New Yorkers who are either underbanked or don't have checking accounts. "I worry about the real-world discriminatory effect that cashless business can have on New Yorkers, especially in communities of color," said Torres. On the other hand, the National Retail Federation argues that "retailers should have the right to choose which payments to accept and to decide for themselves whether going cashless makes sense for their businesses." Along with improving efficiency, proponents of cashless operations also claim that stores become safer when there isn't a lot of hard currency lying around. Nevertheless, cities like Philadelphia and San Francisco as well as states like New Jersey and Massachusetts have already passed cashless bans, with experts saying that Chicago could soon do the same. 
Questions:
Why did New York City recently pass a ban on cashless stores? 
Do you think more local legislators should place bans on cashless stores, or should retailers be left to make that decision for themselves? 
Source: Ed Shanahan and Jeffery C. Mays, "New York City Stores Must Accept Cash, Council Says," The New York Times, January 23, 2020.