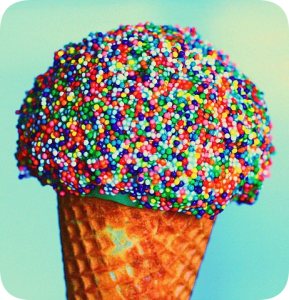 The consumer goods giant Unilever is known for its huge portfolio of major brands like Dove, Lipton, Axe, and many others. The conglomerate also owns several big names in the ice cream aisle such as Breyers, Klondike, Good Humor, Ben & Jerry's, and more. But while these brands are well-known to many consumers, they're about to become a lot less familiar to kids. That's because Unilever recently announced that by the end of the year it would stop airing TV ads for its food and drink brands to children under the age of 12. Meanwhile, kids below the age of 13 will no longer be targeted in the British-Dutch company's social media marketing campaigns. 
Unilever also pledged that it would not promote ice cream in schools or children's movies nor would it hire youth-oriented celebrities or influencers to appear in its snack and beverage marketing. The company claims that it wants to combat rising obesity rates among children, which have more than tripled since the 1970s. "The World Health Organization names childhood obesity as one of the most serious public health issues of the 21st century," said Unilever in a statement. "And it's a key reason why Unilever is committing to new principles on marketing and advertising foods and beverages to children." The company also plans by the end of 2020 to reduce the sugar and calories in all of its products sold in ice cream trucks. These items will be stamped with a label reading "Responsibly Made for Kids."
"It's a move designed to help parents, caregivers and kids make informed choices about the food and drinks they buy, and to address the rise of social media, and the vast increase in products on sale," said Unilever. According to some experts, however, the conglomerate's intentions might not be as noble as it claims. For example, Shu Wen Ng of the University of North Carolina at Chapel Hill suspects that Unilever could be restricting their marketing as a way to push back potentially stronger regulations. "They can say, 'We've already done all these things and we're being proactive,' as a delay tactic," said Ng. "They can pledge things that sound great but have a lot of loopholes." Indeed, many Latin American countries already have regulations in place that aim to reduce the amount of advertising viewed by children. Unilever could be getting ahead of the game before other global regulators develop similar policies. 
Questions:
Why is Unilever planning to stop marketing food and drinks to children? What do you think are the advantages and disadvantages of this plan?
Do you think the United States should put regulations in place that reduce children's exposure to advertisements? Why or why not? 
Source: Laura Reiley, "A Little Scoop: Unilever Will Stop Marketing to Kids in an Effort to Curb Childhood Obesity," The Washington Post, February 14, 2020. Photo by D Sharon Pruitt.