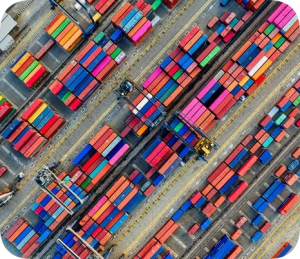 Although heavy traffic in U.S. ports did not end up canceling Christmas last year, the supply chain crisis still led to some empty shelves and expensive items as companies struggled to obtain needed inventory. Now that the holiday shopping season is long over, however, some officials are optimistic that the worst has passed as ports in Southern California work through their backlogs and shipping costs drop from their September 2021 highs. But like so many other aspects of American life, the Omicron variant seems to have squashed this hope as increases in sick employees lead to labor shortages and further supply chain problems.
"If anything, it's getting worse," said Phil Levy, chief economist of the freight company Flexport. "I don't think there's any reason to be sounding the all-clear at this stage." While shipping costs are not as high as late last year, the price of sending a metal container from China to the U.S. still costs three times more than it did at the start of 2021. Experts expect transportation across the Pacific will remain expensive at least through the first half of this year. To complicate matters further, longshore workers on the West Coast will be negotiating new contracts in the coming months. Not only will shipping companies have to commit precious time to these talks, but they could also have to give up costly concessions to workers who hold more leverage than usual.
In the meantime, companies will likely continue to struggle with restocking as international shippers and government officials attempt to sort out this mess. "We're not seeing, really, a lot of progress," said Federal Reserve Chair Jerome Powell. "If you look across, you know, the global supply chains and what's happening domestically, look at our ports, look at Long Beach and L.A., the two big ports on the West Coast for Asia, the number of ships at anchor is still at a record level. So, we're not really seeing yet the kind of progress we, essentially, all forecasters, really thought we'd be seeing by now, and that's really what's driving it."
Questions:
How has the spread of the omicron variant affected the supply chain crisis?
What sort of leverage do you think longshore workers hold going into their contract negotiations with shipping companies? 
Source: David J. Lynch, "Omicron Fallout and Tough Labor Talks Likely to Rattle Supply Chains and Fuel Inflation," The Washington Post, January 15, 2022.