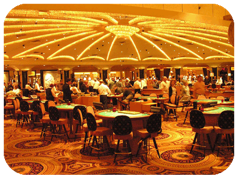 In 1988, just two states allowed casino gambling. Today, New Jersey and Nevada are joined by more than 35 other states that have legalized casinos. Over the years, local governments across the nation promoted gambling as a way to generate additional tax revenue. Plenty of municipalities bought into the idea, leading to a rush of casino construction throughout the 1990s and 2000s.
Like so many other industries, business was good until the recession hit in 2008. Since then, not only have many consumers not fully recovered from the downturn, but also the rapid expansion of casino gambling has led to an oversaturated market. After all, with so many casinos located around the country, the lights at many of the nation's gambling destinations don't seem so bright anymore. For instance, in 2006 the Northern Mississippi casino industry raked in $1.2 billion in gaming revenue. By last year, that number had shrunk to $738 million. Harrah's closed its casino and resort in the region earlier this summer, putting an estimated 1,300 employees out of work.
Matters are even worse in the once great gambling getaway of Atlantic City, New Jersey. Five of the city's 11 casinos lost money last year as gambling revenues fell by 44 percent since 2006's peak. In January the Atlantic Club Casino closed permanently, citing increased competition in the region. Gaming revenue has also dropped for the sixth consecutive month in the Midwest's largest gambling states, Indiana, Michigan, Illinois and Missouri. According to a manager at one midwestern casino, the region has lost touch with a key demographic: women older than 50 years old who bet between $50 to $75 per visit. Many of these consumers have been living on tight budgets since the 2008 crash, and plenty of casino operators have missed their presence among the slot machines. As the years progress, more casinos are likely to close due to similar lack of interest from potential gamblers. Only time will tell if having fewer casinos will be enough to make casino gambling unique and appealing to consumers once again.
Questions:
Why did the recession that started in 2008 hit the casino industry so hard?
Have states suffered along with casinos due to the lack of gamblers?
Source: Christopher Palmeri, "Local Casinos are a Losing Bet," Bloomberg BusinessWeek, April 3, 2014. Photo by Judy Baxter.